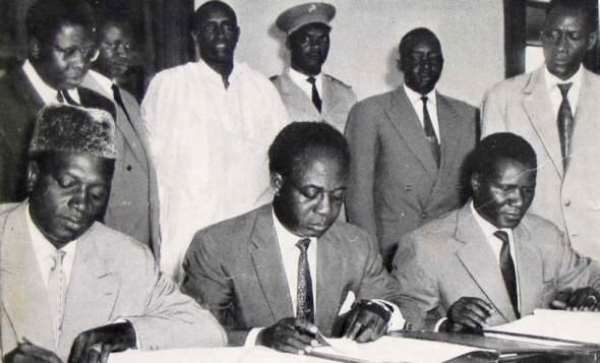 Modibo Keita of Mali, Kwame Nkrumah of Ghana and Sékou Touré of Guinea
Why is Ghana such a famous country known by almost every European, American or Asian? Nkrumah, Nkrumah, they will tell you. This great man, often called 'the Father Of Pan-Africanism,' and other Ghanaian leaders had fought for the country's independence, which was declared on March 6, 1957.
Nkrumah's efforts with his colleagues, later to be known as 'The Big Six,' inspired other African leaders, such as Patrice Lumumba of Congo and Sékou Touré of the Republic of Guinea, to attain independence simultaneously.
Even though it is often on the lips of foreigners that Ghanaians are friendly, affectionate, easy-going and chatty people that quickly engage people into a conversation, they hardly love themselves. It's hard to explain why most Ghanaians hate themselves so much yet love foreigners.
Are corruption, nepotism, and tribalism killing Ghanaians in that rich country that often makes them turn to foreigners? Because it's pure hypocrisy to love a foreigner when you hate your own brother or sister.
As said by Jesus: a prophet has no honour in his own country, Nkrumah was about to know that Ghanaians indeed love foreigners but not the president.
His leadership with Nasser of Egypt and Sékou Touré of Guinea, within the progressive camp in Africa, exposed him to hostility from the Western powers who spared no effort to destabilize his regime in Ghana.
Accra residents woke up to the sound of machine guns on February 24, 1966. The shots came from Flagstaff House, the official residence of the Head of State.
At around 5.30 a.m., an unusual voice, that of Major Akwasi Amankwaa Afrifa informed the listeners of the national radio that The 6-hour newspaper has been cancelled.
Half an hour later, Colonel Emmanuel Kwashie Kotoka announces the overthrow of President Kwame Nkrumah by the army and the police. A National Liberation Council, chaired by General-Major Joseph Arthur Ankrah, is now in charge of the country.
The fall of the Osagyefo-the redeemer, while visiting China, is celebrated by a cheering crowd throughout the principal streets of Accra and other regions in Ghana.
Nkrumah and his family were humiliated and disgraced by the media, especially, the print media, with degrading cartoons, caricatures and in the center of the capital, the bronze statue of Nkrumah was demolished.
After the coup, Kwame Nkrumah then cancelled his visit to North Vietnam, and left directly for Moscow, while the bitter and troubled Sékou Touré, had offered him political asylum in Guinea.

Sékou Touré welcomes Nkrumah with genuine love into Guinea
Alex Quaison-Sackey, the Minister of Foreign Affairs, who accompanied Nkrumah to China, returns to Ghana on March 2, 1966, to make himself available to the new regime.
Twelve of the members of Nkrumah's entourage did the same and as soon as they arrive in Accra, they were placed under house arrest.
On March 2, 1966, Kwame Nkrumah arrived in Conakry and Sékou Touré gave him an emotional welcome. Not even in Ghana have I witnessed such a profound love in the political arena or among politicians.
Political greed in Ghana has allowed politicians, to say whatever they like against the former Ghanaian leader, with the latest insult from the Education Minister Opoku Prempeh, saying:
"Not even Nkrumah can match what NPP has done in the educational sector of Ghana."
Yet the same hypocrites will often caution others that: "don't bite the finger which once fed you."
Believe me, "The current political and economic situation in Ghana, is just the tip of the iceberg, Ghana will become like a broken pot or a tattered cloth nobody can mend it" – Joel Savage