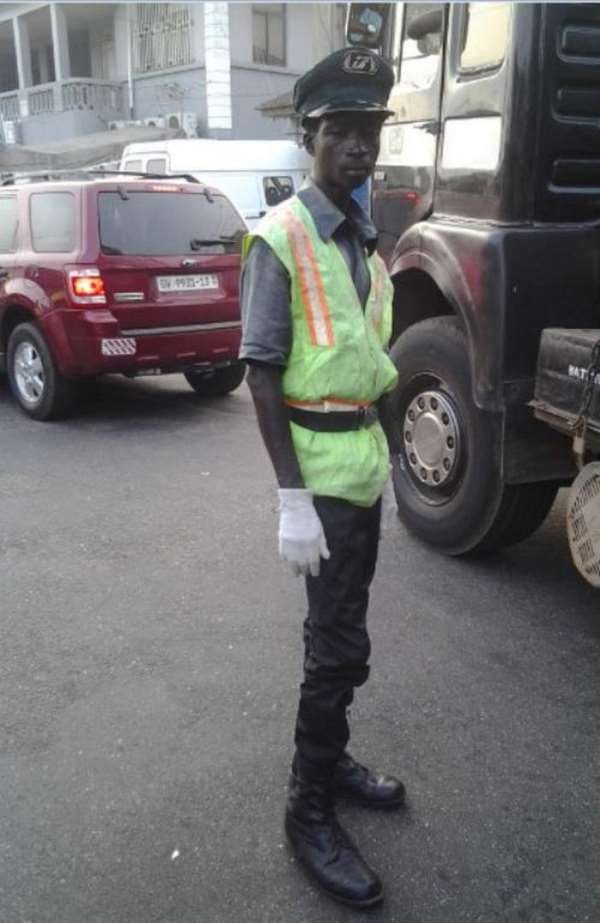 As we hypocritically sing the praises of Awudu the poor patriotic traffic warden in his death. I hope and pray that we sincerely gift the "next Awudu" the -one cedi - the late Awudu requested from many of us but never got.
It is an undeniable fact that majority of us who encountered Awudu on the streets refused to gift him common one Ghana cedi to buy water to cool down the heat that came upon him from the scorching hot sun up above the skies anytime he stood in the middle of Accra's streets to direct traffic particularly at places that regular police motor traffic officers were absent.
Awudu very little from us all Ghanaians, but we failed him. We failed to give him one cedi - just common - one cedi - to buy water. Today, many of us are constructing Oxford standard grammar across all social media platforms eulogizing and celebrating him posthumously as though that will ensure his entering to heaven to comfort his soul.
We are all guilty as a people when it comes to failing Awudu the patriotic committed traffic warden. We collectively failed him when he needed more than just empty praise singing on social media in his death.
Abraham Lincoln admonished the American people a long time ago that "a nation that does not honor its heroes will not long endure". In our part of the world, the corrupted version Lincoln's fantastic advice to the American people which they don't joke with and show gratitude to their heroes before their death reads "a nation that does not honor its heroes is not worth dying for".
This is a palpable lie relative to Awudu's case and many others if anybody were to ask for my candid opinion. As always, and as Ghanaians as we are, we love to sing the praises of dead people instead of showing love and care when they are alive.
I don't know whether we will ever have the next Awudu the patriotic committed traffic warden again, but I know one thing is for sure; a few young men here and there in the capital will attempt to mimic the style of Awudu and we will more certainly look at them with scorn and disdain. We will call them junkies, drunks, armed robbers, pickpockets and petty thieves.
When these "new Awudu's put on their white gloves to offer their support to the Police MTTD to decongest Accra's ceremonial streets of the humongous gigantic long winding traffic, we will most definitely shout on them and call them names. Never will we have the courtesy to offer them pennyworths for enduring the hot scorching sun to help pave way for us.
I know my comments may be seen as intrusively irrelevant, but I believe it is necessary to remind ourselves to always be good to people when they have a life than to mount podiums and sing unnecessary praise that will amount to nothing.
Imagine what Awudu would have been if we highlighted him when he was alive the same way we do in his death that has made him popular than many of the people we call celebrities in this republic.
How many of us can boldly knock our chest and say that I am happy that I gave Awudu One Cedi to buy water when he was alive? Very few of us, but today, see how many of us are constructing Oxford standard grammar across all social media platforms eulogising and celebrating him.
May Awudu find rest in the bosom of the Almighty God for his unmatched selfless service to the people of Ghana.
Mohammed Abdul Hanan EL-Saeed
Ward K Tamale
@Painkiller