The Agony of Osei Kyei Mensah-Bonsu; a prototype of the Ghanaian...
Enesto Yeboah, you are on your own; Ghanaians are just like that.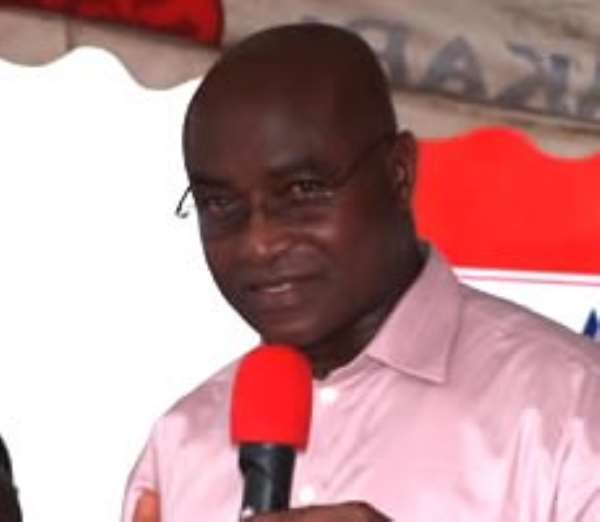 Osei Kyei Mensah-Bonsu
Never mind Enesto Yeboah's drama on the public gallery of parliament today, I bet some headlines or social media handles tomorrow will suggest Mr. Yeaboh is an attention seeker. Also, predictably, the Majority Leader of parliament on PM EXPRESS the other day struggled to defend parliament's bizarre decision to increase seats of the house to 450 to accommodate 'rabbits', 'rats' and their 'babies'. My opinion actually, is not to condemn the otherwise magnificent architectural impression, already vilified by the discerning public, but rather to sympathize with the experienced legislator for his plight. He could not say whether or not he supported the idea. He just needed to speak to it due to his position. How sad. A Majority Leader of our national house of debate could not OWN up on a major decision worth in the region of $200million but just have to speak to it.
The respected Honorable Member for Suame Constituency went on to suggest that one of the reasons for the weird decision is that the media sit right on top of where Mr. Speaker sits for business of the house and that you never know who may "pure acid on Mr. Speaker", therefore, let's protect the elephant number 3. Really? The Majority Leader also suggested that the parliament house space at its current situation is being rented every Saturday for "funerals and other functions" thereby making the place messy and unfit for purpose, therefore, a new parliament building and space will do the trick. Outrageous! What an agony for the leaders' leader! "We could get passionate on some issues and these issues could degenerate to something else and if care is not taken….hand could throw….in other places, members are protected in glasses", the erudite lawmaker went on justifying their decision and in the process, suggesting we cage the MPs. Can you blame him?
Truth be told, a lot has been said in the public by way of comparisons between Ghana and other developed World like the UK and the US with a logic that their debating chambers are nowhere near Ghana's own, and yet these two global powers keep handing out to us via DFID, USAID, etc, while we seek to build a bigger and better house of debate. We are even told in other circles that the UK recently granted $40million to Ghana in support of the "Ghana without Aid" agenda; paradoxical, isn't it?
Much as I agree with those who compare I'm not joining the chorus of comparison. My concern is that suddenly Ghanaians seem to separate themselves from the parliamentarians' ill-conceived idea for the very reasons parliament is caught in the web, selfishness. The parliamentarians are not alone in this. They are not different from us. Yes! Every single Ghanaian. The hypocrisy in us is stinking. Suddenly we think the parliamentarians don't care, but we do! Haa! Tell me more. Parliament is the product of us. If the MPs are good, we are good, if they are bad, they surely represent us, so we are bad. Otherwise, how is it that Ghana selected a crop of Ghanaians to the legislative house who have little sympathy for flooding, sanitation, and drinking water, yet will seek to contain statesmen in a single chamber for only 2-hour events? This can only happen because the elected MPs reflect our poverty in thinking, self-centeredness and inner sentiments.
Parliament is a representation of the general population. They say so proudly each day and I couldn't agree more. Parliament is a sample of Ghana's 275 constituencies. We are the parliamentarian and they are us. They are a reflection of the Ghanaian society. The one that is self-centered and barely cares. The one that is waiting on his neighbor to make a mistake and he pounces on him with venom and judgment. The hypocrite who choose when to complain so long as someone else is benefiting but not him and suddenly shuts up, as long as he is added to the deal. We must be ashamed of ourselves, our streets, our culture, and our ideologies. On the contrary, we are shameless. Rather, we are sentimental, gullible and quick to judge. The one that suddenly finds NAM1 evil today, and yet, was singing his praises while he sprays cash on the street and walks on red carpet. That's the Ghanaian for you.
The UK parliamentarian will not take such sickening decision of wanting to expand a legislative house for the sake of containing more visitors, not because the UK parliamentarian is a super-human being, but because English people are trained to think selflessly, country first, sacrifice, honesty, questions the statuesque and reject stupid ideas with legal force. We, on the other hand, are different. First, our indoctrination is sectarian. One hears funny terms like voltarians, Akanfoo, 'northerners' and lately, you hear the most mischievous one, the "Akans and Non-Akan". It couldn't be any lower. We are timid and told to shut up if the elderly talks, even if the elderly is spewing lies and deceits, just pretend and keep your mouth shut and that's the culture we jealously guard. You cannot question authority. I maintained that our culture and affinity to emotions and sentiment are our undoings, not Osei Kyei Mensah and his people.
We place emphasis on vainglory, interpreted as respect for the elderly, human-eye, God this, God that, yet in our closets, we are the exact opposite of what we profess. It is this kind canker in us that drove the MPs to design a parliamentary chamber to include a chapel, a mosque, and a restraint. I wonder how a church and a prison cell can dwell together. In other jurisdictions accountability, patriotism, honesty, and self-sacrifice are the core values, yet they hold high in respect and dignity for the human race.
The reason parliament can even think of building a new structure after renovating and expanding the old one in less than 3 years is not due to misplaced priority, it is due to self-centeredness which WE ALL have successfully engrained upon ourselves and this is why Enesto Yeboah will likely be on his own. This is not about parliament, it is about us. So instead of pointing the accusing finger to the elected members, I rather suggest, we reflect on the four inverse fingers pointing at us and leave parliament alone. Until we examine our core values over and over again and question the statuesque, we better keep quiet and suffer.
PEACE.