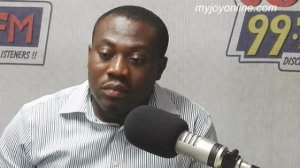 Dr. Justice Yankson
The Ghana Medical Association (GMA) has denied claims by Government that it welcomed a plan to adopt drones to deliver critical medical supplies.
A quote provided by Deputy Information minister Pius Enam Hadzide indicating the association's endorsement "cannot be true", the General Secretary of the Association Dr. Justice Yankson told Joy News Wednesday.
The quote said;
"'Well, for us as an Association, on countless occasions, we have bemoaned the state of emergency medical service in the country, so if efforts are being made by the government to ensure we strengthen that aspect of our healthcare delivery, then we say kudos.."
Deputy Information minister Pius Enam Hadzide
Government has used this quote attributed to the GMA General Secretary as evidence that their opposition to the implementation of the novel health service is a u-turn.
GMA has called for the system's suspension saying it is at variance with the country's primary health care delivery systems, adding for some of the clinics and CHPS compounds where the drones are expected to deliver blood and medicines, there are no qualified health personnel there to administer same.
For example blood and venom serum can only be administered by Senior Nursing Officers, Prinicipal Nursing Officers and doctors. But at some of the health centers expected to request for blood and other critical supplies, none of this calibre of staff is present.

The substance of GMA's concerns has however been overshadowed by controversy over whether their criticisms constitute backtracking.
It has been confirmed GMA was not consulted but government has also referred to the GMA General Secretary Dr. Justice Yankson's comments about the policy as vote of confidence.
Mr. Yankson speaking on Joy FM's Top Story said the comment was to welcome efforts by government to improve emergency health service delivery but not particularly the drone health service.
He said the comment reported April 2018 was at a time when national media attention was focused on the lack of beds at hospitals and lack of critical attention to patients with emergencies.
<
Dr. Yankson said he was not at the programme where the Vice-President first presented the proposal at a health summit.
He bemoaned what he has observed as a general lack of consultation by government on critical health issues of which doctors remain at the frontline of service delivery.
---myjoyonline