Accra waterfront development leaves artists fearful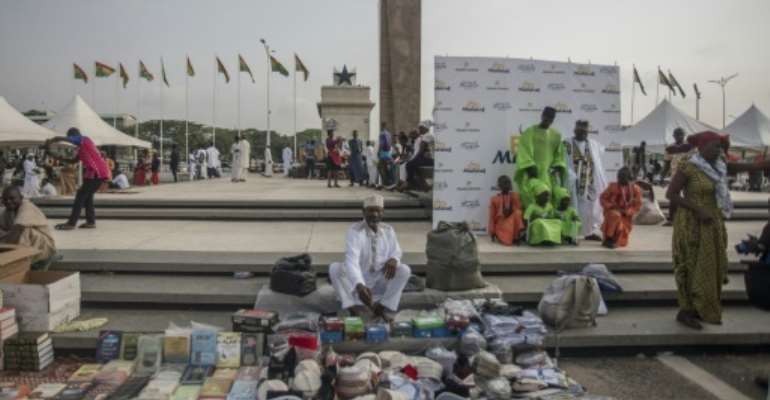 Yussif Ayibesa stands in front of the ramshackle Centre for National Culture that backs on to the seafront in Ghana's capital, Accra, trying to encourage visitors to come in.
The craftsman has been selling drums, paintings and woodwork at the centre since 2004. He's a relative newcomer: others have been there for more than 30 years.
But with major plans to develop the surrounding area, Ayibesa and 1,200 other artists will soon be pushed off the site.
Visiting dignitaries are often brought to see the area earmarked for development, which stretches across nearly 100 hectares (250 acres) from Osu Castle past Independence Square to the memorial to former president Kwame Nkrumah.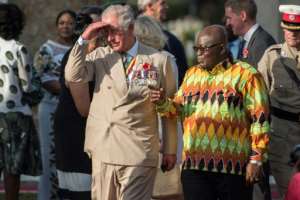 Prince Charles is accompanied by Ghana's President Nana Akufo-Addo during a visit to Accra in early November. By CRISTINA ALDEHUELA (AFP/File)
Earlier this month, Queen Elizabeth II's son and heir, the Prince of Wales, was taken to a viewing platform near the castle -- the former seat of government -- and shown the plans.
Coastal cities across the world from Rio De Janeiro to Nice and Vancouver have all developed their waterfronts and see them as prime real estate. Accra wants to do the same.
British-Ghanaian architect David Adjaye's firm is the lead consultant on Accra's $10 billion (nine-billion-euro) Marine Drive Project, which could take up to 10 years to complete.
Some 150,000 jobs could be created but Ayibesa says there is a wider issue if the artists are moved on and replaced by new hotels, shiny office blocks and upscale apartments.
"Imagine if they take us out of here what are they going to present for the culture in Ghana?" he asked.
The chief executive of the Ghana Tourism Authority, Akwasi Agyeman, has said British investors seem keen to get behind the public-private partnership.
Currently the 2.4 kilometres (1.5 miles) stretch of waterfront hosts government offices, informal settlements, a hotel and the arts centre. All look likely to disappear.
Forced evictions
Displacement caused by luxury development and tourism projects in African countries is common.
The Oakland Institute, a US-based social, economic and environmental policy think-tank, has said tens of thousands of Maasai people in Tanzania were evicted from their homes.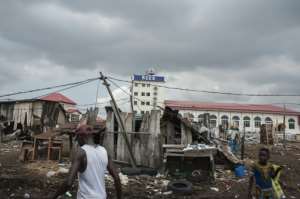 The waterfront sawmills area in the Ebute Metta district of Nigeria's capital Lagos, where communities have been evicted to make way for development. By STEFAN HEUNIS (AFP/File)
Nearly 600 kilometres west of Accra in Nigeria's commercial capital, Lagos, violent evictions from informal settlements have been commonplace to make way for luxury developments.
In 2010, as it prepared to host the football World Cup, the South African government evicted residents from across the city forcing them into slums on the outskirts of Cape Town.
Ghana's government says it is in the process of moving or compensating the estimated 5,000 people who will be affected by the Marine Drive Project.
It is creating a new temporary arts centre in central Accra -- about seven kilometres inland from the current location -- until a new building is constructed on the seafront.
Artists will be able to move back, probably within two years, said Agyeman.
"If you have hotels and audiences you want a place for visitors to come to with easy access... we want them back," he told AFP.
But those affected say there has been no discussion about the conditions of their return, particularly regarding cost, leaving artists uncertain about their futures.
Lack of clarity
Charles Kofi Appiah has worked at the arts market at the Centre for National Culture for 32 years and remembers helping clear the land for the original construction.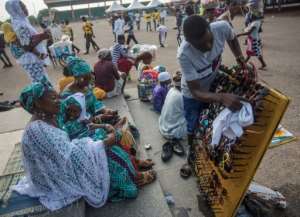 Vendors sell merchandise in Independence Square in Accra. By CRISTINA ALDEHUELA (AFP/File)
Since then, artisans have sprawled outwards, selling everything from traditional Ghanaian fabrics to leather bags and herbal medicines.
Appiah is chairman of one of the artists' organisations in the market and has been liaising with the government and project coordinators on the move.
He says there is frustration at the lack of clarity and fears about loss of income when the centre moves to its new location.
"It will be difficult to get people to come and buy. It will take a while for people to identify the place we will go," he said.
Appiah acknowledged the wider benefits of the development for the city but said he wanted to ensure artists would not be excluded from greater prosperity.
Realistically, though, he expected only those able to afford an inevitable increase in rent would return.
Garba Abu Kassim, another artisan leader in the market, also said the project was good for the city's development but there was widespread uncertainty.
"Most of our people are not happy because they are thinking, if we relocate is it going to be day-to-day business like now? That is the jittery feeling."