Tunis hosts international journalism forum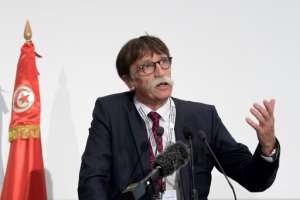 Hundreds of journalists, many from countries where censorship is rife, have converged on the Tunisian capital for a conference on freedom of expression and new challenges facing the media.
The three-day forum, which opened on Thursday, has attracted 600 journalists, bloggers, newspaper chiefs and media academics from Arabic and French-speaking countries across the Mediterranean, Africa and Europe.
An Egyptian journalist, speaking anonymously, told the hosts: "Every question is allowed here -- we are really a long way behind."
Egypt has repeatedly come under criticism from rights groups over its crackdown on opposition and strict media curbs imposed since the army ousted Islamist president Mohamed Morsi in 2013.
Media watchdog Reporters Without Borders (RSF) ranks the Arab world's most populous nation 161st out of 180 countries on its press freedom index and says at least 31 journalists are currently detained there.
In contrast, forum host Tunisia has pressed ahead with democratisation and given space for freedom of expression since its 2011 uprising that overthrew longtime dictator Zine El Abidine Ben Ali.
Now, "we must turn to other subjects such as the quality of information and the subjects in our media, respect for the rules of the profession" and journalistic ethics, said Manoubi Marouki, editor in chief of La Presse, a Tunisian French-language daily.
The forum comes six weeks after prominent Saudi journalist and regime critic Jamal Khashoggi was killed at his country's consulate in Istanbul, sparking global outrage.
The event will examine the phenomenon of disinformation, methods of fact-checking stories that go viral online and the use of drones and other emerging technologies.
Jerome Bouvier, president of the French association "Journalism and Citizenship" which initiated the forum, said he hoped "the meetings and exchange of ideas between participants who come from different realities will give rise to a wealth of projects and initiatives".