Lord Kenya celebrates eight years as Born Again in eight days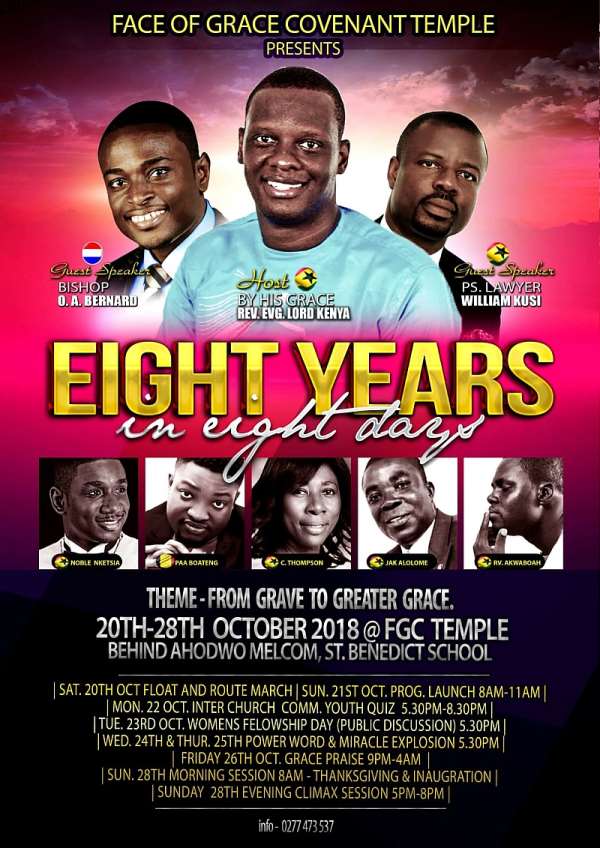 Evangelist Lord Kenya will be commemorating eight years as 'Born Again' Christian with eight days of power-packed activities.
The Face of Grace Covenant Temple at Ahodwo in Kumasi will come alive as the rapper-turned-pastor assembles powerful Men of God and other gospel artists to days of praise and worship from Saturday October 20 to Sunday October 28, 2018.
The program dubbed "From Grace to Greater Grace" holds 5pm each day.
Lord Kenya, who is now an ordained Reverend Minister, has over the years rocked events with the gospel, sharing his experience as a rapper before he was "arrested" by the Holy Spirit.
His quest to win souls for Christ has focused on whipping up the spiritual upbringing of the Ghanaian youth whilst reaching out to the needy as a holistic ministry.
"The grace of God has brought me this far and I will forever remain in His vineyard, preaching the Gospel to save souls for the Kingdom," he said.
The anniversary celebration will attract Bishop O.A. Bernard from Holland and Pastor Lawyer William Kusi to the Face of Grace Covenant Temple.
Lord Kenya says there is no better time than now for all to join in his service of celebrating God's grace.
"There is joy in worship and being in the presence of God is a great feeling. I therefore invite everyone to be part of the power-packed eight days of celebration," he said.
Renowned gospel artists ministering at the event include Noble Nketia, Paa Boateng, Cindy Thompson, Jack Alolome, Rev. Enoch Akwaboah and the Face of Grace Choir.
Evangelist Kenya wants anyone who may be afflicted with socio-economic problems can turn to the cross for solace.
Lord Kenya was 'arrested' by the Holy Spirit on October 28, 2010.