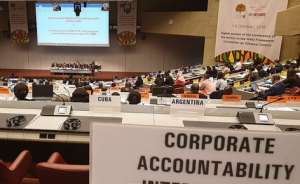 The disease burden, death toll and economic loss caused by tobacco is mountainous enough to warrant urgent action globally. Over 7 million deaths every year and more than US$ 1.4 trillion economic cost cripples the global economy - can this be ignored? Also more evidence piles up on how tobacco threatens sustainable development.
But what is preventing governments from walking the talk on tobacco control and sustainable development? According to the World Health Organization (WHO), tobacco industry interference is the biggest challenge in implementing the global tobacco treaty (formally called the WHO Framework Convention on Tobacco Control (FCTC). So if we are to prevent tobacco related diseases, avert untimely deaths caused by tobacco, and thereby also accelerate progress on sustainable development which currently tobacco not only stalls but reverses, then holding industry liable is the lynchpin.
Be more surprised: in November 2008, almost ten years back, governments adopted FCTC Article 5.3 to stop tobacco industry interference in public health policy so that corporations are not allowed to water down, dilute or defeat evidence-based and life-saving tobacco control measures. But tobacco industry continues to connive to knowingly sell and expand markets for its disease and death causing products. Although governments kicked tobacco industry out of global tobacco treaty negotiations but industry keeps on finding deceitful ways to reap profits from products that fuel deadly epidemics. For example, BBC exposed British American Tobacco (BAT) illegally paid politicians and civil servants in countries in East Africa.
Unless we hold the industry accountable for over 7 million deaths, over US$ 1.4 trillion economic cost, damage to environment and reversing progress on sustainable development, it will not mend its ways. Also without holding industry liable, progress on tobacco control and SDGs will continue to remain under threat.
GOVERNMENTS MUST HOLD INDUSTRY LIABLE
Thankfully, the global tobacco treaty has FCTC Article 19 to power governments with policies to hold tobacco industry liable - financially and legally - for the catastrophe it unleashes.
At the recent eighth session of the global tobacco treaty negotiations, countries unanimously adopted policies that eliminate loopholes Big Tobacco used to gain access to the talks, redouble defenses against evolving industry tactics, and mandate a study on new tobacco products, like heat-not-burn, which pose a threat to public health - particularly to children. The negotiations were under constant assault as Big Tobacco attempted to undermine talks by stacking government delegations, commandeering industry front groups, lobbying countries, posing as the media and employing other means to interfere with policies that would save lives and reduce tobacco consumption.
For years, the tobacco industry has exploited loopholes to send representatives that pose as members of the public and media, and stack delegations with tobacco-friendly industries in attempts to delay, weaken, or block progress. Governments adopted a landmark good governance policy that eliminates these loopholes, shutting out the industry and protecting the treaty from interference.
BIG TOBACCO'S LAST ENTRYWAYS INTO THE TALKS GETS ELIMINATED
"The tobacco industry is the single largest barrier to tobacco control policies globally - and these negotiations were no exception," said Michel Legendre, associate campaign director at Corporate Accountability. "We applaud the delegates that stood up to the industry and staunchly rejected their rhetoric. It is thanks to them that governments have now adopted precedent-setting measures that will protect millions of people's lives."
Governments not only eliminated Big Tobacco's last entryways into the talks, but they also expanded the treaty's firewall policies that protect public health policy making from the influence of emerging industry tactics. The adopted policy includes language to expose and counteract tactics like the Philip Morris International-funded foundation, and it called on all institutions to reject any proposed partnership, among other measures.
"Big Tobacco will stop at nothing to try to undermine the lifesaving measures of the treaty," said Dr. Nuntavarn Vichit-Vadakan, a delegate for Thailand. "Today, we made great strides to keep the industry where it belongs: outside of the talks and away from public health policy."
"This deadly industry may claim it's turning a new leaf, but we aren't falling for its latest scam," said Behzad Valizadeh, a delegate for Iran. "Big Tobacco tries to confuse, sow doubt, and derail policy with its PR stunts, but governments around the world are rejecting its attempts."
UNVEILING A NEW FRONTIER OF TOBACCO CONTROL: LIABILITY
Governments also called on the global tobacco treaty secretariat to fulfill its commitment and provide governments with the necessary resources to hold the tobacco industry civilly and criminally liable for its abuses - potentially unveiling a new frontier of tobacco control.
"Soon, governments will have the tools they need to make Big Tobacco pay," said Dr Reina Roa, Planning director of the Panama Ministry of Health. "Liability actions will unlock unlimited potential to transform the way this industry, and other corporations operate globally."
Casting out the tobacco industry, which drives a deadly epidemic, could provide precedent for insulating other policy making spaces. This includes corporations that drive environmental and public health harms; for example, in the U.N. Framework Convention on Climate Change has no limitations on fossil fuel industry interference. And their obstruction has been at the core of the talks for the past three years.
The decisions adopted by Parties will shape the implementation of the FCTC for the next two years and beyond. The treaty, which entered into force in 2005, contains the world's most effective tobacco control and corporate accountability measures—estimated to save more than 200 million lives by 2050 if fully implemented.
KEY OUTCOMES FROM THE TALKS INCLUDED:
· Policy preventing the industry from attending meetings posing as members of the general public and media and requires delegations to disclose any ties to the tobacco industry.
· Reaffirmation of Article 5.3 guidelines, safeguarding the treaty from emerging industry tactics and calling for all institutions to reject partnerships with industry-funded groups.
.Recommending a study on heat-not-burn products and declaring that the FCTC guidelines apply to these novel and emerging products.
· Adopting a global strategy for tobacco reduction.
Bobby Ramakant, CNS (Citizen News Service)
(Bobby Ramakant is a WHO Director General's WNTD Awardee and Policy Director of CNS (Citizen News Service). Follow him on Twitter @bobbyramakant or visit www.citizen-news.org)