Moroccan teen in gang-rape case urges other girls to be brave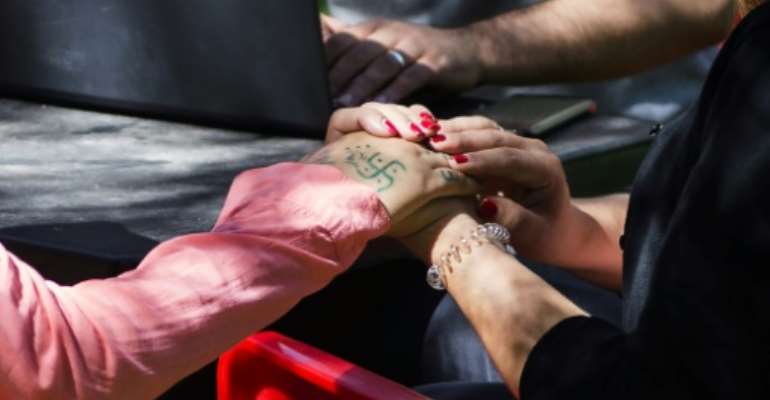 A Moroccan teenager allegedly kidnapped and gang-raped by men from her village called Wednesday on other girls "to be brave" after meeting with the judge investigating her case, which has shaken the nation.
In a video posted online in August, 17-year-old Khadija said members of a "dangerous gang" in her town had abducted and held her prisoner for two months, raping and torturing her.
"I call on all girls to be brave. We girls are strong and we must stay strong," she told AFP after attending a hearing at a court in the central city of Beni Mellal.
"I'm still traumatised. What happened to me is not easy to bear," she said, nervously attempting to cover up rudimentary tattoos on her hands allegedly carved by her abductors.
Khadija's viral video -- in which she shows horrific scars purportedly from cigarette burns -- sparked a wave of solidarity on social media for the teenager.
Many of her supporters have used the hashtag #masaktach, or "I won't be silenced".
In front of the judge on Wednesday, Khadija "confirmed all the charges, fully and in detail," her father Mohamed told AFP.
"She is courageous despite her psychological fragility," he said.
A dozen suspects -- aged 17 to 28, whom she named as her attackers -- were remanded in custody at the end of August on charges including human trafficking of a minor, rape and torture, according to a judicial source.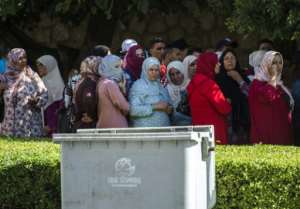 Relatives of men accused by a Moroccan teenager of gang-rape wait outside a courthouse in the central Moroccan city of Beni Mellal on October 10, 2018. By FADEL SENNA (AFP)
Several of her alleged attackers have confessed to the charges, according to sources familiar with the case.
But their admissions have failed to convince the teenager's critics, in a society divided between conservative and progressive strands.
Khadija "has still not recovered from what happened", her father said, adding that she now barely leaves the home in Oulad Ayad -- a rural village in one of the kingdom's poorest regions.
"We receive threats and insults by telephone, but I don't tell her anything," he said.
"I took away her smart phone to keep her away from anything that will remind her of what she's suffered."
The case's first hearing in mid-September was marred by insults hurled by the family members of the accused, but Wednesday's meeting was quieter as authorities kept relatives outside the building.
Khadija's choice to speak up and publicly accuse her attackers is rare in the conservative country, where rape victims often remain silent to preserve family reputations.
"I knew it was going to be very difficult when I decided to make a complaint, but I'm ready to bear it. I will move beyond this phase," she said.
"I think about the future and I have confidence in justice."