The Special Prosecutor Is Finally Here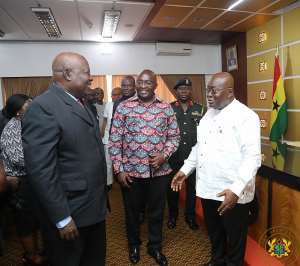 Unarguably, the nomination & announcement of Mr. Martin Amidu as the special prosecutor will go down in our history books as one of the biggest news ever to have hit this country (see; http://presidency.gov.gh/index.php/2018/01/11/president-akufo-addo-nominates-martin-amidu-as-special-prosecutor/ ). Apart from storm the announcement came with, many did not penciled him to be given that job considering his no nonsense stance on corruption even within the circles of his own party and also as a person who shares a different political ideology with President & the NPP.
Let me take this opportunity to commend His Excellency the president for this bold decision to nominate Mr. Martin Amidu as the first special prosecutor. This singular action of the president has no doubt peaked him high in the fight against corruption. Knowing the sort of person Mr. Martin Amidu is, and settling on him to execute this job, one can confidently say the president mean business in the battle against corruption.
For some, the president is simply playing with tail of a lion, but for me, I see his nomination as a double edged sword that would be in the best interest of our country. Why? Not only would Mr. Martin Amidu go after perceived corrupt individuals in the past administration, I predict he would hunt down on the perceived corrupt appointees of the president first to send a clear signal to all corrupt individuals that he would soon be knocking on their doors as well.
Those who have issues hanging around their necks and those stained with corruption are making all kinds of allegations against him and accusing him of being consumed by bitterness and hate and therefore is not the right person to occupy that office. For me, if such bitterness can lead one to fight for his country the manner he has done, by going after gargantuan corrupt individuals and institutions who have conspired to steal from the state coffers in those unprecedented magnitudes, I would wish his bitterness is increased. But in all this, what is in no doubt by any independent thinker is the fact that he (Martin Amidu) has served his country well, especially in the fight against corruption.
What I would like to humbly appeal to Mr. Martin Amidu when given the nod by parliament is that, his scope of fighting corruption should not only be limited to political appointees alone. Civil and public servants in most cases are the most people you can find in this country. Apart from sometimes influencing political appointees in their areas of work to be corrupt, they set them up, fight and conspire to let them down especially when they realized those political appointees are serving as impediment on their way to stealing from the public coffers. If Mr. Amidu is successful in bringing some level of sanity in the civil and public sectors, those public servants would in turn serve as a check on the political appointees.
May the almighty Allah guide and protect Mr. Martin Amidu in the execution of this job when he takes off office.
Columnist: Ibrahim Mohammed Hamid