The Ongoing Jujutsu At The University Of Education, Winneba (UEW)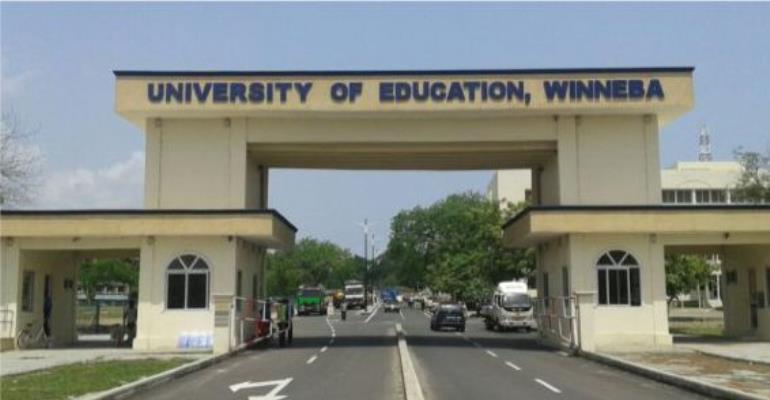 In academics, it is best to ignore faculty who are all over the map and cannot intellectually engage in active highbrow exercise. That being said, I am not going to deploy my mental acumen to attempt to engage those who attempt to write rejoinders on behalf of others; and whilst doing that blatantly do not address an iota of the issues that I raised. However, this ex-truck driver, now turned a pseudo lecturer goes ranting about contracts and procurement laws in Ghana. In all his mediocre write ups, he willy-nilly attacks individuals without any adherence to common decency. I have taken my gentle time to read all the garbage he has churned over the past months.
Regrettably, he is fascinated and wedded to particular Acts of the Procurement laws. Two things that I should applaud him for:-One, he is good at character assassinating people. Secondly, he writes as if he is in the last vestiges of someone who has rabies. His writing is not coherent and he does not try to respond to any allegation. If his allegations that some individuals have misappropriated monies belonging to UEW, he should have BNI or other state agencies interdict them. On the contrary, Dr. Abakah and his co-conspirators overseeing the UEW banana plantation (Associate Professors may not use the title Professor because they are NOT FULL Professors) have become judge and jury in this UEW saga.
I will not dignify the half-backed poodle by even mentioning his name in my analyses. In my discernments, he does not exist and his academic tenure is going to be very dumpy. I hope the people he is defending with his last breath are also reminding him that writing papers in the news media does not count towards promotion. If he can humbly array the same energy to churn an article or two in a refereed journal that may probably earn him a promotion. We have on record people who retired without becoming a senior lecturer. I thought one needed to have a terminal degree before one could be considered for a faculty job at UEW? Perhaps, if this guy had gone through an advanced training like most of us, he will be more nuanced and subdued in his lap lurch reactions. Nowhere in his response did he attempt to write a paragraph to defend the intellectual dishonesty of his pay master, the Rev. Afful-Broni.
In only two years, this shameless defender says he has become an expert on how universities operate and is very familiar with the procurement Act. Like a poodle, he defends his pay masters without adhering to basic sense of sedateness. Let me make a candid admission; I am not interested in going to court. With corrupt judges like the dude in the High Court in Winneba, why will anyone go before him? I am, however, interested in those who parade themselves as Professors who should not be where they are. If we allow such nit wits to go scot free, we must as well call UEW the Banana University of Winneba. Like I indicated earlier, I am not exposing Aful-Broni because of his conniving ways. If I find another academic ballyhooing the title PROFFESSOR without earning it the right way, I will expose that individual too.
On my peregrination to expose this replica academic that made it inexplicably into the elite club and now being referred to as Rev. PROFESSOR Aful- Broni, a clear picture has emerged. In my last write up, I conjectured that this man of God has not really inscribed anything himself. I am flattered to share a few other publications I freshly uncovered.
Afful-Broni, A & Ankutse, N (2014). Ensuring inclusive educational practices: A study of support service delivery to children with special needs in Ghana. Research on Human and Social Sciences. Vol 4 # 19 (What riveted me about this study was that the authors investigated the delivery of special needs education in the Volta Region. Nathan Ankutse is the deputy director of special education in the Volta Region. From what I know about the Rev's work in academics, special education is not his area of expertise. Additionally, he does not have an idea what special needs education actually entails. Even his faithful aficionados can indubitably appreciate that all the work was done by Mr. Nathan Ankutse. However, Afful-Broni, without ignominy ingrained his name as the first author and Ankutse as the second author. In reality, what is impenetrable is why the Volta Region? Afful-Broni does not even like Voltarians. I am lost for words that he claims he led a study in that region. This is purely ACADEMIC FRAUD)
Afful-Broni, A & Tah, I.S (2015). Employee conflict and its management in the case of the hotel industry in Ghana. Case study at La Palm Royal beach hotel. Journal of Educational Policy and Entrepreneurial Research. Vol 2 No 5, 38-48. (Irene Seh Tah is a lecturer in hospitality management at Takoradi Polytechnic. The titillating part of this untruthfulness is that Afful-Broni again listed his name as the first author and the actual researcher was listed as the second author. When did the Rev. go to La Palm to conduct a study? This work was totally driven and executed by Miss Tah. Another example of academic FRAUD and DISHONESTY)
Afful-Broni, A. & Duodu, E. A (2013). Effective leadership through efficient utilization of educational facilitation: A Ghanaian case study. V 4 # 24. Journal of Education Practice. This is a study that was conducted at the Nyakrom Secondary Technical School. The primary lead was Enoch Andrews Doudu. Another example of the Rev. engraining his name as a first author on a study he did not conduct. ( Intellectual FRAUD)
Afful-Broni, A & Noi-Okwei (2010) Factors influencing the choice of tertiary education in a sub-Saharan African university. Academic leadership. The Online journal Vol 8 Iss Article 20. Fort Hays State University scholars, Kansas-USA (What I have not been able to determine is if Christiana Noi-Okwei is a graduate of this university. The Fort Hays University Scholars (FHUS) is a scholar's depository that seeks to collect and preserve the creative works of the FHSU community and make these works available to a worldwide audience. Be that as it may, Afful- Broni does not have any business naming himself as the first author. He never attended this university. Another case of ACADEMIC DISHONESTY)
What I have done is to engage in a historical capsule of the academic veracity of Afful-Broni, who is crisscrossing around as an erudite professor. He has not added to any body of knowledge nor has he supervised any doctoral student at UEW. He has lived a life of an ACADEMIC FRAUD throughout his university career. Indeed, he has gotten away with it because Ghanaians tend to be very cavalier with regards to questioning the transgressions of the So-called men of God. I am on a crusade and as long as I remain active, I will continue this duty of unmasking Aful-Broni and others like him at UEW.
I hope the National Council for Tertiary Education (NCTE) will rise up to do their job. The Ministry of Education can be equated to the ostrich with its head in the sand. Maybe this piece will awaken them. If the lecturer who was hired two years ago wants to take me on, he is free to do that. He should respond to me in an intelligent and objective way. Insults will not deter me. But, I think we are all tired of him mentioning the Procurement Act. It looks like it's the only provender to someone who has been bitten by a mad dog. More anon! As always, you may reach me at: [email protected]