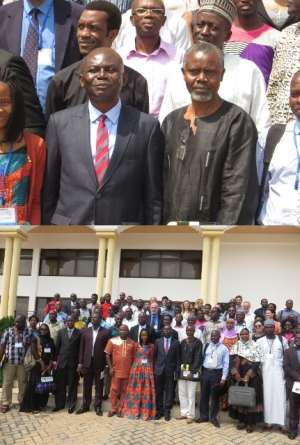 Accra, June 19, GNA - Professor Felix Ankomah Asante, The Director, Institute of Statistical, Social and Economic Research (ISSER), University of Ghana, has called for the promotion and adoption of energy initiatives at all levels of government in Africa.
He explained that in order to escape total environmental degradation, ecosystem breakdown and critical climate change extreme events; energy demand in Africa needed to be met by mix of clean energy sources such as solar, wind, and waste-to-energy resources.
Prof Asante made the appeal on Monday in his opening address at the International Research Conference on the theme 'Strategies for Sustainable Energy Transitions in Urban Sub-Saharan Africa' (SETUSA 2017).
The two-day Conference, which is being hosted by ISSER, is part of the project called 'Supporting Sub-Saharan African Municipalities with Sustainable Energy Transitions' (SAMSET) funded by the UK Department or International Development (DFID), the Department for Energy and Climate Change (DECC) and the Engineering and Physical Science Research Council (EPSRC).
Over the course of the two-days, participants would learn about empirical studies and analysis in the general context of the drive towards sustainable energy transition in Sub-Sahara Africa urban cities with significant focus on the three broad sub-themes; energy efficiency strategies in Sub-Sahara Africa, energy access strategies in urban Sub-Saharan Africa and mobility and spatial planning in urban Sub-Sahara Africa.
The conference therefore, seeks to provide a platform for scholars, development agencies and practitioners to deliberate and share knowledge on sustainable energy in Sub-Sahara Africa, to deepen their understanding on the means and strategies by which Sub-Sahara African urban cities' energy landscape can transition to sustainable and environmentally friendly setting.
Prof Asante noted that SAMSET aims at supporting local authorities to build resilient, energy dependent and green cities and municipalities in Sub-Sahara Africa through capacity building and knowledge exchange.
'Africa, as we know it today has become rapidly urbanised. About 60 per cent of all two billion people estimated by 2050 will live in cities. It is also estimated that, urban Sub-Sahara Africa will be responsible for about 75 per cent of the total energy consumption by 2040,' he said.
'This has serious implications for the capacity of our environment to continue supporting life at optimum level taking into account the dominant source of energy, especially electricity, in most Sub-Sahara African countries,' he added.
On the theme for the Conference, Prof Asante said it was thoughtfully coined to pull together papers developed out of scientific investigations; completed or ongoing projects implementation such as SAMSET; and governmental or non-governmental programmes that focused on understanding the state of energy demand and supply in Sub-Sahara African urban cities and the strategies to adopt towards sustainable energy transmission in these cities.
Prof Daniel Kebera Irurah, Sustainable Energy Architecture, University of Witwatersrand, who delivered the keynote address, said to ensure energy sustainability in Africa, there was the need for the application of neuroscience for attitudinal change.
He said there was hope for the renewable energy sector in Africa; stating that we need the technology and policies, however, we need to work on our attitudes.
Mr Mark Louis Borchers of SAMSET, said the SAMSET project aims at supporting six African cities in three countries - Ghana, Uganda and South Africa - with sustainable energy transitions.
He said urban areas had a role to play in the sustainability of energy; adding that the future of energy was in renewable natural resources and not in the old biomass.
Dr Xavier Lemaire, Senior Research Associate, UCL Energy Institute, said how to reduce and manage waste was a huge problem for most cities in West Africa.
GNA
By Iddi Yire, GNA