21 April 2017
|
Opinion/Feature
Ghana's Finance Minister Under NPP Caught In A Complex Web Of Incompetence And Conflict Of Interest
Mr. Mustapha Luri Suleman and Mr. Tonia Hakeem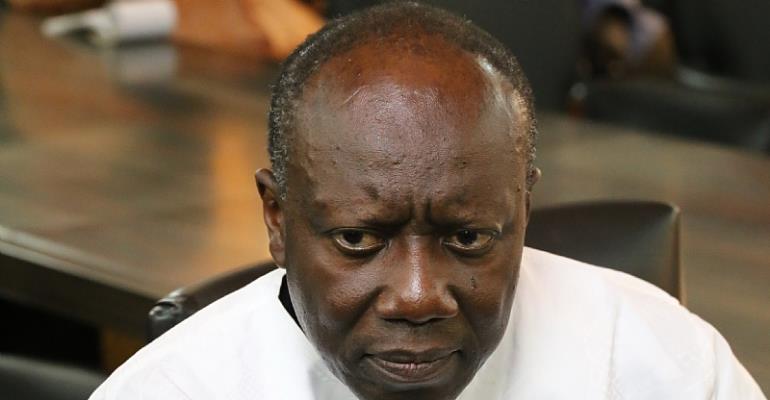 The case of Bond floatation of USD 2.25 billion by Ghana's Ministry of Finance led by the Hon Ken Ofori Atta, the Minister, brings to the fore, many financial and moral issues to the front burner of political discussion of the political talk shop. It is however, yet be known where this debacle will ultimately land. As commentators and "citizens" with keen interest in how the economy of this country is run, we find it appropriate to wade into this discussion.
While in opposition, the NPP had argued very strongly against the NDC led administration for borrowing to finance Governments development projects. They said it was the lazy man's approach to economic management. Citing the debt/GDP ratio, they claimed that the health of the economy was being imperiled by "á reckless government" through the borrowing. It must first be made clear that, we the Young Democrats of Sisaala East are not opposed to government borrowing to finance developmental projects like the Ghana Gas project.
On the contrary, NPP presented themselves as being opposed to the culture of borrowing when they were in opposition. Little did we expect that they will borrow, even at a higher coupon rate.
INCOMPETENCE
Inasmuch as the last $750million Eurobond floatation in 2016 by the Hon Seth Terkper yielded a 9.25% coupon rate, it was heavily criticized by the NPP as being too high. That either a poor job was done or that, the high interest rate represented Ghana's risk level. Fast forward to 2017, NPP is in government and their little record is already stinking. They have raised a 15 years bond of $2.5million at a coupon rate of 19.75%. This represents the worse ever in terms of the price at which it sold. Curious questions are now beginning to emerge over this deal, which other observers have described as the worse financial scandal to have hit Ghana.
Usually under bond floatation, it is expected that, long-term bonds carry lower interest rates and vice-versa. It is therefore tongue wagging that, NDC could raise a short-term (5year) bond at 9.25% coupon rate and yet NPP will raise one at 19.75%. This is either palpable incompetence, substandard or something worse than that.
CONFLICT OF INTEREST
Not only have the NPP quickly abandoned their rhetoric, they are actually borrowing at much higher coupon rates under dubious circumstances that smacks of thievery, if not conflict of interest. Instead of the auction going through a transparently competitive tender, a façade was created where:
The bid was poorly advertised to the extent that Ghanaian investors apart from two knew about it. On the contrary a US investor knew everything about and flew down to Accra to participate.
The bid was opened and closed in just one day contrary to the normal practice of allowing the auction to run for at least 3days as was the practice in the past under the NDC.
Now, the investor who flew in all the way from USA and bought some 95% of the bonds happened to have many relationships with the Hon. Finance Minister. This relationship is certainly not beyond arm's length, thereby generating high suspicion of crony dealing. The processes were clearly not above board, giving credence to the suspicion that, the rules may have been skewed or cooked for this selected investor.
A longer duration for the auction would have in no doubt engendered competition with an ultimate result in lower interest rate. Interestingly, it looked like the Hon Finance Minister was not interested in a better deal for the country.
This being an international transaction, it ought to have gone through the parliament. It is worth mentioning that, this deal did not go to parliament and it was not known to the Attorney General either. At least, the Attorney General is on record to have said that she knew nothing about that bond flotation.
The Finance Minister, Attorney General, Finance Minister's wife and other big men in NPP are directors of the company which purchased 95% of the nearly $3bn loan at over 19% interest rate. The Insurance Company that brokered the deal belongs to the Finance Minister and his cronies.
The attorney general claims that she resigned from the Governing Board of Enterprise Group Limited on the 1st of April, 2017. However the deal in reference was closed on the 3rd of April, 2017. It means that she was part of the company at the time they were discussing the shady deal. If you can't see the palpable conflict of interest, I don't know what else you can see.
MEDIA
It shocks to realize that the media have largely been defensive and overly protective of the conduct of these powerful individuals. Joy FM for instance has spent more airtime on airing the responses provided by those behind this deal than they did to help unearth the facts behind the scandal.
At some point in time, Citi FM actually published on their website (http://citifmonline.com/2017/04/18/i-didnt-even-know-about-2-25bn-bond-issue-gloria-akuffo/) a denial of knowledge of this important financial transaction by the Attorney General. Realizing how damaging this publication has caused the image of Government, CITI FM has since pulled down this publication from their webpage. The good thing is that, the original publication was widely read and has been archived.
SUBSTANDARD, INCOMPETENCE AND DISHONEST POLITICS.
NPP in opposition had resorted to a certain dubious method of computing the National Debt, arriving at the conclusion that it was not sustainable. Facts about the purpose or usage of the loans didn't matter much to them. NPP did not take into consideration the fact that NDC borrowed in some instances to Finance development projects and in some cases too to pay maturing debts, a term then described as SMART BORROWING.
Today, NPP is claiming that, this controversial Eurobond deal is the best thing to happen to Ghana because, it is meant pay maturing debts and or to extend the life of other loans. Their main argument is that, this will not increase the total debt stock of the country. This is exactly what the NDC administration was doing with some of the loans but NPP's voodoo economic team led by DR. Bawumia who knew nothing at the time about debt management strategy, was only just summing up all the loans contracted by Government to arrive at their so-called debt sustainability limit. We have been told that, the purpose of this loan Ghanaians have not been told what the money is going to be used for.
The standards cannot be varied. DR. Bawumia and his team were either hopelessly incompetent or very shamelessly dishonest economist.
What makes this particular bond a terrible deal for Ghana is that, it effectively converts a lot of our cedi denominated loans into dollar based loans. So we will suffer an upward review of all our debt stock (Cedi and Dollar) in the event of exchange rate depreciations. Nothing could be wicked.
THE CONFUSION.
Attorney General AG has said in clear words that she didn't know anything about the BOND deal.
(http://citifmonline.com/2017/04/18/i-didnt-even-know-about-2-25bn-bond-issue-gloria-akuffo/)
This therefore compelled the Deputy AG, Joseph Kpemka, to troubleshoot on Metro TV saying that, the AG has since sent out circulars to all Ministers to send their financial transactions to her for clearance before they can proceed to undertake such transactions because she is the Chief Legal Adviser to the government. Consulting the AG for input in such financial transactions is trite knowledge. Save the incompetent and substandard appointees, you don't even need to have a head to know it. Where did they leave their brains?
Here is how the Deputy AG, Hon Joseph Kpemka, once again attempted to defend the Finance Minister: maybe the Finance Minister did not consult the AG because, he (finance minister) probably misunderstood the 'legal' aspects of the transactions to be administrative' and therefore acted without consulting the AG.
So clearly, we are being told that, someone is either substandard or incompetent.
If the Attorney General as legal advisor and Member of Cabinet did not know about this transaction, who else in Cabinet knew or did not know about it. Was it even brought to Cabinet? If it was, what was the quality of discussions on it?
The convoluted attempt at defending what is clearly wrong even to the uninitiated aptly sums up the thought behind the deal.
THE CRONYSM
Franklin Templeton Investment Limited is an American global investment management organization founded in 1947. He is said to have extensive global presence, including offices in 34 countries and clients in more than 170 countries.
The firm has renowned investors as it Board of Directors. In an unedited semi-annual report of Franklin Templeton Investment limited dated December 31, 2016; Honorable Trevor G. Trefgarne was named as one of the five Board of Directors of the firm. He was described in the report as chairman of Enterprise Group Limited (a Ghanaian firm)
Enterprise Group Limited also has a picture of Honorable Trevor G. Trefgarne on its website as Chairman of the Board of Directors of the company. Enterprise Group has 10 Board of Directors. Principal among them are Mr Keli Gadzekpo, Group Chief Executive of Enterprise Group; Dr Angela Ofori Atta, wife of Finance Minister Ken Ofori Atta who doubles as Director of Enterprise Insurance, a subsidiary of Enterprise Group etc.
Enterprise Group also has Minister of Justice and Attorney General, Gloria Akuffo and Dr Angela Ofori Atta as non-executive members of the firm. Hon Gloria Akuffo is/was Director of Enterprise Life, a subsidiary of Enterprise Group (it is not clear whether he has resigned or not).
In 1990, Finance Minister Ken Ofori Atta together with Mr Keli Gaadzekpo (CEO of Enterprise Group) and others founded Data Bank. It is now emerging that a firm that Hon Trevor G. Trefgarne works as a member of Board of Directors took substantial position in the April 3, 2017 bond issued by the Finance Minister.
A clear case of a substandard government at work.
Fellow Ghanaians, let's unite to expose our corrupt government officials who want to take the citizens for a ride. Let's ask ourselves whether this is actually the change we wanted. Long live Ghana!
More to come soon...
By;
Mr. Mustapha Luri Suleman (Director of Communications of Young Democrats 0243370001)
Mr. Tonia Hakeem Deputy Secretary of Young Democrats! 0209811047