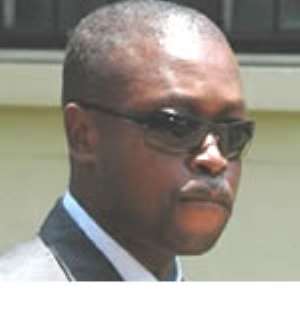 Many Ghanaians including myself have expressed puzzlements over the decision of the acting Inspector General of Police (IGP), COP David Asante-Apeatu to transfer the Ashanti Regional Police Commander, COP Nathan Kofi Boakye to the Police Headquarters in Accra as the Director General of Research/Planning. "The Ashanti Regional Police Commander, COP Nathan Kofi Boakye, is heading for Accra as Director General Research/Planning at the Police Headquarters. That position was held by COP Rose Bio Atinga, who now moves to the Technical Directorate as Director General at the headquarters" (Source: ghanaweb.com, Wednesday February 8, 2017, http://www.ghanaweb.com/GhanaHomePage/NewsArchive/IGP-moves-Kofi-Boakye-in-Police-shake-up-507902 ).
The IGP has every right to shake-up the Police Service at any time. Nevertheless, the transfer of COP Kofi Boakye is like a High School Chemistry Teacher appointed as chief laboratory assistant. Is this not an attempt to make the noble Police Commissioner not worthwhile in the service? What raises a suspicion is that out of many police officers who were transferred, Kofi Boakye's own was singled out and mentioned as bereft of political machinations. "The reassignment of Ashanti Regional Police Commander COP Nathan Kofi Boakye and other officers was not because there had been a change of government, Superintendent Cephas Arthur, Director of Public Affairs of the Ghana Police Service, has said" (Source: ghanaweb.com, Wednesday February 8, 2017, http://www.ghanaweb.com/GhanaHomePage/NewsArchive/Kofi-Boakye-s-transfer-not-political-Police-507917 ). Superintendent Cephas Arthur, I am curious to know why COP Kofi Boakye's name was singled out in particular.
COP Kofi Boakye made some strides toward security and public safety in the Ashanti Region. He is an ardent adherent of rule of law who discharges his duty without fear or favor. For example, in 2014, he arrested the former Local Government Minister and Kumasi Mayor, Maxwell Kofi Jumah. "The former Local Government Minister, Maxwell Kofi Jumah has been arrested by the police in Kumasi on the orders of Ashanti Regional Police Commander, DCOP Kofi Boakye, Myjoyonline.com has learnt" (myjoyonline.com, October 3, 2014, http://www.myjoyonline.com/news/2014/october-3rd/kofi-jumah-arrested-over-alleged-assault.php ). This is a prime example of equality before the law.
Before he became the Regional Commander, Kumasi, the second capital of Ghana was inundated with broad day light robbery and hoodlum with impunity. Armed robbers were on shooting rampage. For example, "On Wednesday May 8, 2013, two men were gunned down and butchered in broad day light in Ashtown, Kumasi, in what police suspect was a retaliatory attack, with some political undertones.
Kwadwo Asamoah, popularly called Gauso who was one of the deceased persons allegedly subjected an NDC sympathizer, Maphus, to a similar attack in the heat of the 2012 December election. Maphus survived that attack, but Gausu was butchered and shot dead. One other person was hit by a stray bullet. On Sunday May 12, 2013 Prince Opoku Antoh, 30, nephew of the Ashanti Regional Chairman of the NPP F.F Antoh was shot in the head at point blank range at the Dark City Pub, a popular drinking spot in Dichemso by five men suspected to be armed robbers. The men who were said to be on a robbery spree invaded the pub and demanded that all monies at the counter be handed over to them" (Source: ghanaweb.com, Monday May 13, 2013 http://www.ghanaweb.com/GhanaHomePage/regional/Weak-police-intelligence-to-blame-for-Kumasi-crimes-MP-273855 ).
Other News reported that "The ring leader Yaw Gyamfi alias Ogooro and one Kwaku Asante who is on a Police wanted list for allegedly murdering in cold blood one Yaw Akoto on October 24th, 2009 at Atwima Koforidua have vowed to eliminate members of Buffalo Unit Police personnel of Kumasi after the recent gun battle that resulted in the Commander DSP Samuel Nyamekye Ameyaw being shot in the leg" (Source: modernghana.com, October 13, 20110, https://www.modernghana.com/news/300126/kumasis-hottest-robbery-gang-vow-to-kill-kumasis-buffalo-p.html ). All these crimes almost declined when COP Kofi Boakye became Ashanti regional Commander.
I must concede that no human being is indispensable. However, a police Commissioner of Kofi Boakye's caliber must not be made the supervisor over police researchers. It does not make a scintilla of sense to make a tough striker a reserved player in a soccer game while the team is down by a goal. Security challenges in Ghana is already enormous thus, transfers must not affect commanders on top of issues. Typical of Africans, we always discover our true identity and responsibility after a disaster. COP Kofi Boakye is not the only commander, even so, Ashanti Region was not without a Police Commander when all the aforementioned incidents took place.
A transfer refers to a horizontal or a lateral change of workers from one job, section or department, shift or position to another at the same time wherein benefits and duties remain the same. The purpose of transfer is to promote a more satisfactory work team in order to enhance efficiency, effectiveness and versatility. More often than not, transfer in public institutions is somewhat meant to punish a particular worker. Readers can follow the link below for more tutorials on transfer, http://www.whatishumanresource.com/employee-transfers . It is not generally appropriate to transfer workers who excel in their departments. They rather deserve promotions. In the case of Ghana Police Service, it has become a ritual for every new IGP to start his work with transfers of personnel. As the philosopher, Friedrich Nietzsche observed, truth: the idea that there can only be one correct way to consider something, is proof that our thought process has become inflexible. In the view of Nietzsche, being flexible and recognizing that there can be more than one way to consider a matter is a sign of a healthy mind, and to have an inflexible mind is to say no to life. Thus, we cannot view the transfer of hard working police commander like COP Nathan Kofi Boakye only as normal police administrative issue. To be fair to the IGP, we cannot also view it only through political lens. Nonetheless, since the appointment of IGP is political, it is always difficult to disentangle police transfer from political meanings.
Politicization of the Police and other security forces will not inure to the benefit of Ghanaians. Armed robbery attack is no respecta of political affiliation. When hard working Police Commanders like COP Kofi Boakye or COP Rose Bio Atinga are relegated to the background, it confirms what the Doyen of Ghana party politics and the Gold Coast nationalist, Dr. Joseph Boakye Danquah once said, "Ghana is not worth dying for". Show me 20 dedicated Police Officers like COP Kofi Boakye and COP Rose Bio Atinga and I will show you a crime free Ghana. I think the appointment of IGP must be based on merit and seniority in order to rid the police service of political influence. This will also prevent unnecessary competition at the police top hierarchy.
Moving on to The Gambia in a related security issue, there appeared to be revelations that 44 Ghanaians were murdered in 2005 by the Gambian Soulless dictator, Yahya Jammeh for rituals. Jammeh intentionally murdered these innocent souls for his diabolic spiritual observance. I think the $500, 000 paid to compensate the bereaved families was not enough. The Attorney General must initiate moves to drag this psychopath to International Criminal Court (ICC). God Bless Our Homeland Ghana. Make Us Cherish Fearless Honesty.
By Nana Yaw Osei (Padigo), USA.
[email protected]