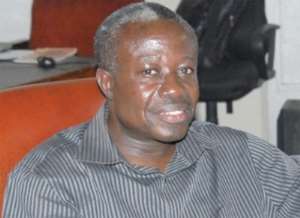 Dr Kwabena Opoku-Adusei
THE GHANA Medical Association (GMA) says some of its members have been receiving death threats as the strike over doctors' conditions of service enters week three.
In a press statement issued Wednesday, President of the GMA, Dr Kwabena Opoku-Adusei, noted that some government communicators have gone on air to openly encourage armed robbers to attack homes of these doctors.
The communicators also gave out details and direction to these doctors, the statement said.
The GMA gave no names of doctors facing threats or government communicators it accused. But, Dr Opoku-Adusei is criticising government for "silent support for these threats."
'There have been various threats to our members since this industrial action started. Indeed, some government communicators have openly on radio asked armed robbers to attack doctors, detailing the addresses of where doctors live.
'No government officials have come out to condemn this action but rather appear to silently support these threats.
'The GMA takes these threats seriously and are putting in all the necessary measures to ensure the safety of its members,' the statement said.
A member of the NDC communication team last Saturday on a live programme in Kumasi invited armed robbers to visit the doctors in the houses and attack them simply because they had refused to call off their three week strike.
The GMA says nothing will deter it from fighting for a documented set of conditions of work.
'No conditions of service, no work,' Deputy General Secretary of the GMA, Dr Justice Yankson, stressed.