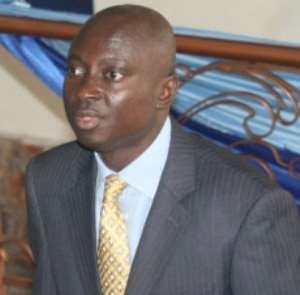 Dear Hon Samuel Atta Akyea,
Greetings from my corner of the world. I can see that you take the title "honorable" very seriously and very personally - almost like a bonafide title, to the extent that it even forms part of your Facebook name. That's great! You deserve it. After all, you worked hard and paid hard to get to parliament in the name of the people.
My only problem with some of you so called "honorables" is the way that you have taken this privilege to serve the people in parliament as a personal opportunity to do business with anybody from anywhere for personal gain instead of focusing on the public good - which is the primary reason why we-the-people sent you there in the first place.
Honourable, it has become very clear to some of us that you people in parliament have become rentable at a good price, not only to engage in lobbying, but to pursue the parochial agendas of individuals and organisations in this country at the expense of the public good - just for your personal gain.
Mr. MP, I don't think I am the only one who is aware of your dishonorable behavior. Indeed, the public knows - thanks to one of you - Hon. Majority leader Alban Bagbin, who not too long ago acused all of you - including himself by the way - of taking bribes from individuals and organisations to work for their interests in parliament. Even before Hon. Bagbin let out this open secret, Hon. PC Appiah Ofori of the NPP made similar revelations of how you people took bribes to facilitate the sale of state assets to foreigners etc.
Hon, if there were still some lingering doubts in the public's mind about thèse damning révélations coming from within your own house, thèse doubts have now been sufficiently cleared by your own déshonorable behavior in récent times.
Does anybody have to think deep to know that some of you, including Dr. Matthew Opoku Prempeh, have been privately rented by the same characters within the destination inspection companies (DICs) and Bankswitch to do thier bidding for them against the Trade and industry minister Dr. Ekwow Spio Garbrah or rather the people of Ghana? The only thing one cannot be exact about - for now - is how much your illégal spinning services are Worth.
Otherwise, how on earth can so-called honorable members of parliament claim that the Trade Minister's creative efforts at paying a judgment debt awarded to Bankswitch by an international tribunal amount to soliciting bribes from the DICs? Where on this plannet Will a minister of state write an official letter with government of Ghana letterhead to solicit bribe?
Or is It that in your indécent haste to fill your pockets and serve your Private masters as well as score your cheap pilitical points, you refused to think before speaking out? Perhaps, you wrongly assume that we-the-people Will be cajoled into this your petty scheme Just because of your empty title honorable? If that is the case, you Will have to think again because we-the-people know that your titles have been rented out for crumbs.
These are the FACTS - in case you care to know.
The judgment debt was for the termination by the Prof Mills administration of a contract awarded under President Kufuor for services in the trade facilitation arena.
The Mills administration thought that the contract was improperly awarded and that Bankswitch did not perform the services for which the Kufuor government contracted it to perform.
Bankswitch then sued the Government of Ghana in international courts and won a judgment debt amounting to approximately GHC 197 million. The payment of this judgment debt has not only delayed, but It Is also accumulating to colossal sums.
Since the Government of Ghana has not been able to pay this judgment debt yet, Bankswitch has been engaged in négociation with Government on alternative payment arrangements.
Bankswitch even recently sought to have the Government of Ghana pay the entire judgment debt over a 5-year period, and in addition for Government to award Bankswitch 0.35% of the FOB values of all Ghana's imports over five years.
This supplementary award of 0.35% of FOB imports over 5 years, was not accepted by the NDC Government of Ghana because that would mean going into a contract with Bankswitch that would be worth more than GHC One billion cedis over five years.
This additional over payment to Bankswitch would be over and above the full settlement by the Government of Ghana of the GHC 197 million debt, whether paid in one lump sum or over a number of years.
It is this 0.35% of Ghana's import trade bill that Bankswitch would wish to be awarded that the Ministry of Trade has invited Destination Inspection Companies interested in paying off the Bankswich debt to present expressions of interest so as to prevent the people of Ghana from being milked an extra GHC One billion for no work done.
The Trade minister's transparent invitation on official Government of Ghana letterhead to five destination inspection companies to treat in pre-paying the GHC 197 million was motivated by the national interest in saving the country more than GHC One billion in overpayments that Bankswitch is seeking from the people of Ghana.
Honorable, it was Members of your NPP government who negotiated and signed the Bankswitch contract, and which includes some of you NPP MPs, your associates in civil society like IMANI GH and your rented press who are today running riot without doing the least due diligence checks. Indeed, hon. Anthony Osei Akoto of the NPP went to testify at the international tribunal to make government of Ghana loose the case against Bankswitch. What is your own rôle in all of this?
something i don't understand is what You people want from the people of Ghana after taking huge house rents, loaned cars, huge salaries etc whiles your ex gratia await you - which you people décide for yourselves without consultation from the people anyways.
The only reason i can attribute to your déshonorable behavior is avarice. Your desire for money and fame and vain glory is so insatiable, you Will go down even to hades, if need be, to have It.
What we-the-people want is Financial prudence on the part of Our governing officials. What we want is to have no illégal and improper contracts signed between government and private companies in the first place.
It is obvious to some of us, honorable, That you people in the NPP only want a delay in the Settlement Which will inevitably lead to paying perhaps more than double the amount in the near future which May then lead to "willfully causing Financial loss" to the state.
As a lawyer, you should know better than to suggest that the Trades minister who Is trying to avoid causing Financial loss to the state in the future is acting illegally. Acting illegally is when members of parliament rent out their public Platform to private individuels for personal gain. Check It!
The destination inspection companies already have contracts with ministry of Trade. Their contracts expires in December this year, i am told. Indeed, they are direct stake holders of the ministry of Trade. And the letter written by the minister, as we have all Read, is not compelling the DICs into any agreement.
What is the NPP's problem with the people of Ghana? And what is your problem with the minister of Trade?
yours constituent
Amenga-Etego SaCut
(Journalist& ghost writer)
It is neither in my nature nor nurture to flatter men - don't expect it