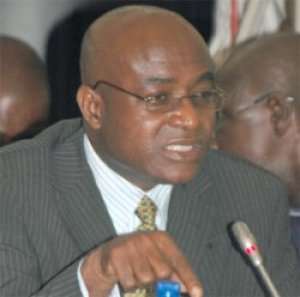 Minority Leader Osei-Kyei-Mensah Bonsu
I have been observing and monitoring happenings of my beloved country and it gives me room to be concerned. I keep asking this question, " is Ghana a double standard society ?
To start with, let's consider parliament. How many times has the whole house agreed on issues that generally inure to the Ghana's benefits with a unanimous decision straight up. It's always battled on the grounds of majority and minority. But when it's about the welfare of MPs they battled as if in parliament there is no minority and majority. They go around to campaign on many promises yet when the electorates demands of the promises, they claim they are only by constitution to formulate legislations. Does this sum up double standards?
Lets consider the VAT situation. When NDC tried to introduce VAT NPP demonstrated and even lives were lost but later VAT was pushed through amidst opposition from the NPP. NPP assume power and when money was needed they jacketed VAT with increment amidst protestation as usual from NDC as they were in opposition. Today, NDC also found reason to increase VAT and they were meted with a walk out. Either way, VAT was supposed to give room for GET-fund and NHIS which we the ordinary see need and benefit of the two. So my question is, was VAT introduction and increment opposed on the grounds of reality or partisan points?
Secondly we have citizens, who demands of government great development yet when they hear the name "TAX" then they scream so loud that, government many times back down. Citizens under pay taxes yet desire of government amenities. We have citizens that invade taxes yet scream loudest for development. Citizens will connive officials to cut taxes yet scream of increment. How many people per tax net really pay tax looking at the populations of this nation. If my postulations are right, less than 100 000 people pay tax out of the population of 25million people. Even out of the 100 000 only the few thousand public and civil servants per regularly the rest under pay. These citizens who fail to pay and under pay taxes scream when fellow citizen steal or embezzle the monies. Is this double standard, a question I ask.?
Let's talk about politics of insult, you can find politicians who can be at each other throat, their followers trade insults to opponents with ease and swiftness. But when those very words they use are traded within their parties they call it unfortunate and it shouldn't happen. Consider how some NPP followers chastised Dr. Nyaho Tamakloe, Dr. Arthur Kennedy, Tarzan and many others, even otumfuo had its share but some where angry and call for calm because the words in usage are not healthy. Look at the NDC too and how some followers subjected, Martin Amidu, president Rawlings, now Hon Bagbin, Vicky hammah, Ayitey Basty etc. Some members are angry too and calling for calm. So I asked, both NPP and NDC does foul mouth hurts and they trade it at each other but not permitted within?
Lastly let me use comrades Kwasi Pratt and Malik Abdul kwaku Baako. The very day, Mr. Pratt chide government then followers of NDC raise eye brows. Same with kwaku Baako, the day he makes comments that sort of praise government then NPP too questions his motivation. But the day Mr. Pratt's statements chide NPP, NDC followers hail him and same with Mr. Baako when he stands firm against NDC, followers hail him too. Is this double standards?
Let me end on corruption, we are screaming so much about it. Yet we have citizens of such corrupt persons as friends, family, acquaintances, children, lovers etc. Are they saying they don't smell fishy? But those who scream too, easily make personal calls with office phone, run personal errand with office vehicle, jump queues, pay brides for admissions and many more. So with all the above, Is Ghana a double double standard society?
SCOFRAY NANA YAW YEBOAH
0243085932
[email protected]