Pointing Out the Enemies Of John Mahama To Him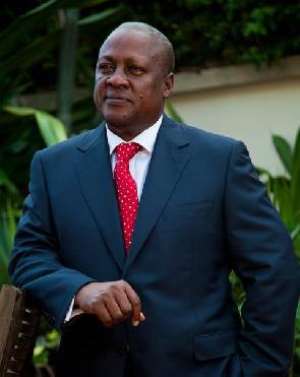 First and foremost, it is an open secret that the Number 1 enemy of President John Dramani Mahami is himself. He is his own enemy. Some readers my wish to query me about this bold assertion made today on this platform. The answer is not far fetched. It is very simple.
 
President Mahama knows in his heart of hearts that he ascended the presidency through the backdoor, regardless of the preposterous Supreme Court verdict of dismissal of the petition as declared by William Atuguba (JSC). The crown was not his, but he forced himself to wear it. Is it any wonder therefore that he cannot find his feet at the presidency, but just wobbling on his legs with his knees about to give in while carrying the workload that is hurting his neck?
 
He has forced himself on to a stolen wild horse. He is riding a horse that is angered so much that it is about to escape from underneath him at any ticking second of the clock. He is confused, overwhelmed by the demands of his job title. Governing a country is not simply "Ede bii keke" as he anticipated. It entails a lot of farsightedness, forward thinking, wisdom, expedient implementation of policies of collective interest to the nation and many more.
 
President Mahama is simply a greenhorn in the post. He is not only incompetent but corrupt. He has not wherewithal to govern. He has appointed "square pegs in round hole" persons to fill the Ministerial and Deputy Ministerial positions in his government. He interprets everything he sees through the opaque tribal lenses he is wearing, in very hostile tribal sense.
His interpretations are tailored to be in conformity with his inhered desire to rid himself and his tribe of any perceived inferiority complexes. He seeks to exert his tribal equality or superiority by the realisation of his emerging dangerous tribal sentiments. Much as he does that, he fails woefully. Is he not therefore blameable for his obvious failings at the presidency?
 
The next enemies of President Mahama are the loquacious but very often unintelligent radio phone-in serial callers he has enlisted to throw dust into people's eyes. These people along with the entire NDC propaganda machinery (NDC Communication Team) are not doing the President any good but eventual harm.
They do not only draw salaries and allowances for no beneficial work done for the nation but also, make it extremely difficult for the President to know the real facts on the ground.
 
When the entire nation is weeping, cursing the President, the NDC serial-callers tell him everything is well with everyone happy, praising and giving him thumps-up for a job well done. People are giving you thumps-up, the NDC radio phone-in serial callers declare to the President.
How would the President know his shortcomings to improve upon them if his own people do not tell him the truth? All Ghanaians, I think, are not as stupid as the NDC serial-callers under attack in this write-up would want us to believe.
 
Are the Government Ministers and Deputy Ministers also not the enemies of the President by their corrupt attitudes? Some of them do embezzle public funds either directly or indirectly. They recruit people into their ministries on purely nepotistic or tribal grounds other than merit.
They have no respect for anyone else apart from the President and those with whom they are in bed stealing from the country. Can the nation advance socially, politically and economically with such irresponsible persons running the country? Most of them are unfit for their positions as intellectually, morally and psychologically incompetent as they are.
 
What about the chiefs, kings and queens who do some silly questionable errands for John Mahama to keep him in post despite him fumbling through the requirements of his office everyday? Some of these traditional leaders accepted bribes (in the form of cars) from John Mahama during Election 2012 campaign.
Some of them are alleged to have arranged to grease the palms of some equally irresponsible Supreme Court judges to declare a winning verdict in favour of Mahama contrary to the truth. Are they not in effect his enemies if he finds himself incapable of the duties of president?
 
Did I forget to mention Dr Kwadwo Afari Gyan, that septuagenarian liar who along with his Electoral Commission outfit rigged Election 2012 for then presidential candidate John Mahama? Is it not only a sicko that does not know the election was rigged in favour of John Mahama? If it were not so, would Kwadwo Afari Gyan poo on himself while languishing in the witness box under powerful cross-examination by Lawyer Phillip Addison?
Truly, "the evil that men do, lives after them into the grave" so let it be with Afari Gyan defecating on himself. It is not a small punishment defecating on you in public and on live telecast, when lying about election results as deduced from the available evidence during the Supreme Court proceedings on Election 2012.
 
Last but not the least; are Supreme Court Justices Atuguba, Adinyirah, Akoto-Bamfo, Baffoe-Bonnie and Sulley Gbagdegbe also not the enemies of the President? Outwardly, the President in his parochial-mindedness sees them as his friends who have helped him hold on to the presidency.
However, to the intelligent ones like Rockson, they are the enemies of the President. By their corrupt verdict that has made them a laughing stock throughout the world, they have not been helpful to the "Ede bii keke" President. John Mahama feels too hot in the seat. His buttocks are on fire but he is unfortunately glued onto the seat without any means to extricate himself from the burnings. 
 
John Mahama is constantly at the receiving end of public ridicule and insults thanks to the five mentioned Supreme Court justices. They reaffirmed the rigged election results for simply being morally rotten and non judicious. 
 
The above are the enemies of President Mahama. Blame the above named groups of persons if Mahama singes on the hot seat. He is currently confused, meandering in the paths of the presidency as does a confused river meandering in the Amazon Forest of South America. 
 
The above people thought they were doing the President a favour but they have rather done him the greatest disservice in his life. Governance is not all "Ede bii keke", innit?