MURDER IN THE NAME OF GOD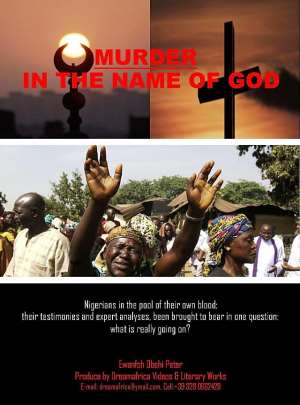 Hereunder is a short synopsis of an ongoing documentary on the religious violence in Nigeria, particularly since 2009.
Nigeria is in a siege, an insidious self-acclaimed army of God is on the loose and the local people are counting their horrible loses.
In the estimate of Human Right Watch, 2012, more than 3000 Nigerians has been murdered since 2009, all in the name of God. The tension has not grown any less since it first escalated in 2009 and the confusion is always overwhelming in the air. What is truly going on?
"Murder in the name of God", is a pencil, trying to find where the hand of God is hidden in the human violence or at least, so they claim. And whatever question is provoked herein is part of the story: How did we manage to shut the door to our human instinct and abuse the very nature upon which our lives derive a meaning: our common humanity? How can we speak of a good God and keep slaughtering our fellow human beings as our evidence of him? When shall we look at our social problems for what they really are and leave God and the devil out of it?
"Murder in the name of God" is not about answers; it's about question: when are we going to take responsibility for our actions and stop blaming our human errors on God and the devil?
One might ask; "what concerns an African migrant in Europe with the violent campaign in Nigeria?" Well, it's almost impossible to ignore this human drama, bearing in mind that the victims are our brothers, our sisters, our fathers and our friends. Even though we are far away in Europe, we hear their voices, so in our common humanity, we are trying to find a solution and a common connection in the crises.
So we are calling on all Nigerians/Africans, wherever they live, to keep taking about this human carnage in Nigeria. In one way or the other we are all affected.
Ewanfoh Obehi Peter