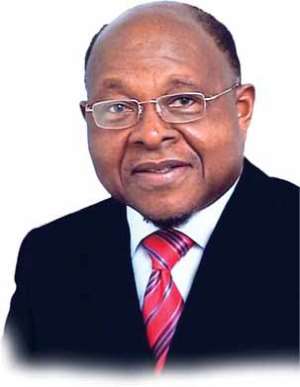 THE PATRIOT, PROF MIKE OQUAYE-Personal and National Achievements
Prof Mike Oquaye, one of Ghana's illustrious sons has been the Second Deputy Speaker of Parliament since January 2009. He is an accomplished lawyer, academician, politician, pastor and diplomat who has won lots of admiration for his deep intellectual understanding of the problems facing the country and the basic things that he wants to see done to radically better Ghana's fortunes.
CAREER
His working life has been mainly a combination of private legal practice, lecturing in political science and practicing main stream politics and has attained distinction in all spheres.
Political career
As a nationalist and founding member of the New Patriotic Party in 1992, the learned Professor has served his dear nation and party in so many distinguished positions.
At the National level:
Prof Mike Oquaye served as Ghana's High Commissioner to India between 2002-2004 where he was credited for among others, negotiating for and establishing the Ghana-India Kofi Annan Centre for Excellence, a reputable IT institution for higher learning in the whole of Africa. He also secured grant for the construction of the Presidential Palace and offices now known as the Jubilee House. In his time, India gave a loan facility of $104 million with 45% grant element.
At the Ministry of Energy, Prof Oquaye chalked a lot of successes including the deregulation exercise; the first in the history of Ghana which brought petrol prices to appropriate parity levels. He negotiated and signed the MOU for the Bui Dam in 2005 withSino Hydro of China. He worked on the commissioning of the West Africa Gas Pipeline and monitoring mechanism. His signature also adorns the Tullow Agreement which brought oil to Ghana!
The professor undoubtedly has wonderful negotiation skills. He said: "I don't waste people's time when I meet them; and I want nothing for myself, except Ghana's interest". He was the man who directed that all cables which were manufactured by Ghanaian firms in Tema, should no more be imported by VRA, ECG etc. This led to a revival of the cable industry in Ghana. Prof opined: "I learnt it in India".
He also worked extensively at the Communications Ministry as the sector minister until his resignation to contest the NPP presidential primaries in 2008.Here, he led Ghana to attain a record teledensity. He brought a policy directive which stopped the importation of scratch cards effective November 1, 2007, and for all cards to be manufactured by Ghanaian companies. He also masterminded the National Backbone of IT and the E-Governance programme.
At the Party Level:
Prof is a true party man. A founding member of the NPP, Prof Oquaye was the first Regional Secretary of NPP for Greater Accra in 1992, and also the first Chairman of the Party for his Constituency. He was a member of the first National Campaign Team of the NPP in 1992. He was a member/secretary of the high powered Political Committee after the 1992 defeat.
He worked with other central NPP figures, including Ex-President John Kufuor, Nana Addo Dankwa Akufo-Addo, the late R. R. Amponsah, Prof. Adu-Boahen, Peter Ala Adjetey, B. J. da Rocha and Odoi Sykes to campaign successfully for the NPP victory in the 2000 general elections.
Legal career
He is a barrister of the Supreme Court of England and Wales. He is also a senior member of the Ghana Bar and used to be Solicitor for some leading companies and reputable financial institutions, consultancies etc. in Ghana.
Academic career
As an academic, he has achieved the singular distinction of winning within four years, the coveted Rockefeller Senior Scholar Award (1993) and the Senior Fulbright Scholar Award (1997).He was a professor of Political science at the University of Ghana, Legon, Head of the Department of Political Science and member of University's Academic Board - the highest authority at the level of the faculties.From 1997-1999, he was the Vice President of the African Association of Political Science (AAPS), with headquarters in Zimbabwe.
Prof. Oquaye is a renowned writer, who has researched and written extensively on good governance, conflicts, political education, decentralization and development, human rights, military intervention in politics, NGOs, rural development and gender issues. He advocates women's rights, including affirmative action. He has written several books and academic articles.
He is a Baptist Minister married to Mrs. (Major-Rtd) Alberta Oquaye with six children. His hobbies include soccer, table tennis, reading and music.
VIEWS AND IDEOLOGIES
Prof Oquaye summarised his motivation in life as "Service to God, service to man and my life is done".Prof. Mike Oquaye believes strongly thatwith collective individual abilities and efforts, the nation can move forward". He believes that, those who have knowledgemust use it to serve the nation since to him that is what nationhood is all about. "Every service must be service with excellence. Footballers must be the best; carpenters, the best; soldiers, the best; doctors, the best – and Ghana will be the best place on the globe. We can make it".
According to him, Politics should not be one's first job as one cannot offer much experience. "If you are coming into politics you must bring something along. You must have your own
accomplishment in your own field... and you must be strong because you are going to carry other people's burden" he said and added "I came into politics to add something to it."
He also debunked the popular Ghanaian notion that all politicians are self seeking, saying it is service to the nation and fellow human beings. He said, people should desist from the politics of lies and insults but rather bring dignity and purity into political life.
It can be said of Prof Oquaye that came into Parliament already an accomplished man, to serve out of a sense of patriotism. One thing Prof. Oquaye is particularly concerned about is his name and reputation which he is determined to protect at all times. He obviously did not attain it on a silver platter
• Some excerpts taken from Wikipedia & Statesman.com