"Cross fire" crosses the limit in Bangladesh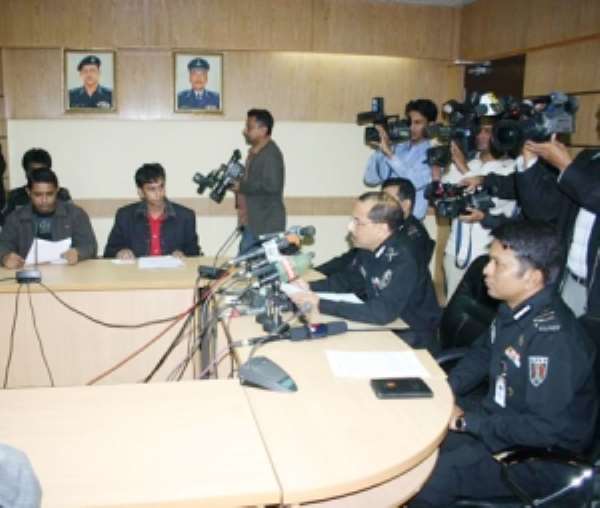 Briefing Hassan Mahmood, director general of the elite Rapid Action Battalion holds a press briefing on Dec. 29, 2009.
The director general of Bangladesh's elite Rapid Action Battalion, Hassan Mahmood, in a press briefing to the media on Dec. 29, said that in 2009, sixty individuals deemed as criminals were killed in 57 different incidents of gunfight by the RAB. The RAB opened fire in self-defense after being attacked by the criminals, he said.
In a previous press briefing on Sep. 3, 2009, RAB chief Hassan Mahmud Khandker had informed that 577 persons were killed in 472 different "crossfire" incidents from Mar. 26, 2004, when the RAB was formed, until August 2009.
Denying any charges of extrajudicial killings by the RAB, Mahmood said that the elite force had played a vital role in maintaining law and order in the country. In 2009, we arrested 16,436 people in connection with different allegations including 78 militants and recovered 27 grenades, 1,306 firearms, 8,163 bullets, 304 bombs, 323 cocktails and 20 kilograms of explosives, he said.
According to a human rights organization, 1,419 people were killed by different law enforcement agencies between June 2004 and November 2009.
On Nov. 17, The High Court bench of Justice A.F.M. Abdur Rahman and Justice Md Emdadul Haque Azad passed a suo moto rule asking the government to explain within 48 hours whether extrajudicial killings in custody should not be declared illegal. The Attorney General Mahbubey Alam sought time for the hearing.
In the history of Bangladesh, this is the first ever suo moto rule from any court in the country, regarding extrajudicial killings. Justice Rahman and Azad issued the suo moto rule after reading newspaper articles on the deaths of two brothers – Lutfor and Khairul Khalashi –while in the custody of RAB in Madaripur district.
On Nov. 14, Major Wahiduzzaman led a RAB team from Jatrapur area under Narayanganj district to arrest the Khalashi brothers. On the same day, their family members held a press conference at the Madaripur press club expressing concern for the brothers' lives. The family urged authorities to save the two brothers from "crossfire," which is the "official" way of law enforcement agencies to kill suspects in detention.
On Nov. 16, the RAB claimed that the Khalashi brothers were killed during an "exchange of gunfire" in Madaripur when a group of ultra-leftists opened fire at the paramilitary force's patrol team early that morning. The RAB personnel arrested two persons from Narayanganj, adjacent to Dhaka city, and killed them in Madaripur, around 150 kilometers away, after keeping them in custody for two days.
Rahman and Azad asked the secretary of the Ministry of Home Affairs, director general of the RAB, commander of the RAB-8 and a major of RAB who arrested the Khalashi brothers, to respond within 48 hours.
Bangladesh Legal Aid and Services Trust and Ain o Salish Kendra on Dec. 14, 2009, after hearing reports by different human rights organizations, submitted a list of 1,057 victims killed by law enforcement agencies. The High Court on the same day ordered the RAB to stop killing any more people under the pretext of "crossfire" or "encounter" until it heard the suo moto rule over extrajudicial killings.
Home Minister Sahara Khatun in a statement said that no "crossfire" took place during her tenure while human rights organization said that 141 individuals were killed by different law enforcement agencies in the first 10 months of rule under the present government.
On Feb. 4, last year, Foreign Minister Dipu Moni shared the government's commitment for "zero tolerance" on extrajudicial killings, torture and death in custody, during the Human Rights Council in Geneva. But the situation has not changed.
Based on national laws and international covenants and treaties, Bangladesh's law enforcement agencies are violating the fundamental rights of life by indulging in extrajudicial killings.
William Nicholas Gomes is a human rights activist and freelance journalist. He can be reached at E-mail:[email protected]
Development / Accra / Ghana / Africa / Modernghana.com
Originating at nicholasgomes.wordpress.com