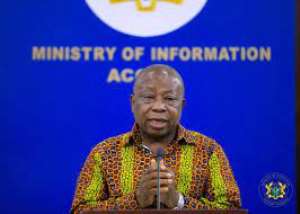 Dormaa Central Member of Parliament and minister of health Kweku Agyeman Manu currently 65 years old has been trending for quite sometime now, this is because he erred in serving the nation with the right mind and competence.
Agyeman Manu should be given a break, he was only heeding to the tasks which have been voiced out to him as a minister. Yes, he was doing his part as a public officer but unfortunately he did not apply diligence in his operations as a minister. Mr Kweku Agyeman Manu breached article 181 clause 5 of the constitution by not going to parliament whilst handling International affairs on loans to be granted by the finance ministry. Listening to Paul Adom - Otchere's Good Evening Ghana show yesterday he made some revelations that Kweku Agyeman Manu was only acting in accordance with the President's emergency powers which he reposed on himself and his government to curtail the freedom and rights of Ghanaians in the course of the COVID 19 pandemic. So per the facts on the ground Kweku Agyeman Manu was under the authority of that emergency powers the president had conferred on himself and his government. Paul Adom - Otchere also made some revelations about the minister's 2nd of August's letter to Sheikh Al Maktoum telling him to refund the 2.85 million US dollars in his coffers, in which the Sheikh replied on the 5th of August to refund 50% of it. Mr Paul Adom - Otchere claims the minister upheld article 36 up high which demands that the state protects the public purse to maximize economic development. So he writing to the Sheikh means that he knows his deal has backfired but he is taking concrete steps to make sure that the 2.85 million dollars is brought back safe and sound. And so because of these claims Paul Adom - Otchere scored the minister 7/10 in his COVID 19 fight. But unfortunately I disagree with him, this is why;
1. Kweku Agyeman Manu in the first instance should not have dealt with a middle man. My question to him is, how sure was he that Al Maktoum was going to deliver the vaccines.
2. He lied under oath that he had first contacted Russia for the vaccines and that backfired but it turns out it was just a fallacy and that after dealing with Al Maktoum and seeing that things were getting out of hand he had to improvise. The lie here makes him unprofessional which means when given the chance he will lie more, we want truth and transparency to be the moral character and attitude of our leaders but Kweku Agyeman Manu has put that course into disrepute.
3. Kweku Agyeman Manu had to go on the tangent of not thinking properly because he was under pressure. The question is, is that not why we select leaders so that they can get us out of problems? So if our leader who is supposed to swallow the problem is being swallowed by the problem rather and that has resulted to him loosing 2.85 million US dollars then where do we stand as a country.
4. He said he knew nothing of monies being paid to the sheikh but later the ad-hoc bi partisan nine member parliamentary committee found out from the Bank Of Ghana and the Controller Accountant Generals Department that monies have been paid. So the health minister if he did not lie in this instance had no idea of the agreement he had gotten himself into which really baffles me. This means at a point he was loosing control and that makes him unfit for the position because he will be making the same mistakes again in the future.
5. Mr Agyeman Manu wrote to the Sheikh for the vaccines to be delivered and 20, 000 out of the 300, 000 were delivered, where did the supposed 20, 000 vaccines go.
This and many more on the part of Mr Agyeman Manu proves that he is no more fit for the outfit he represents, the days of empathy and sympathy must be abrogated from our governance system, after all the office of ministry of health is not his private company, he must think of it as him solidifying his employer the president's claims of running a competent government devoid of scandals, defects and errors.
Mr Agyeman Manu must also care to note that if it were to be the NDC who had erred then he would have said the same exact words I'm saying. Private legal practitioner Martin Kpebu puts it right when he says Agyeman Manu is not the only man fit for the position and that there are others more who can do more than he has done, it's true and I believe more and more people are available to fill in if the office remains vacant now. The fact is Ghana must start upholding discipline, if Agyeman Manu goes scot-free many more others would do the same. Some people are seeking to criminalise him but I will only seek for a resignation or that the President asks him to hand over his tools, I think sending him home will at least heal some wounds. Government officials can be changed as many times per their competences, I think that practice must be adopted so that it will make them more cautious when handling issues of national importance. If every year we change a minister because he performed abismally the others in the ship will do well to steer it right because of fear of being thrown into the water if they misbehave. Resignations and Prosecutions must be our culture us Ghanaians if only we want this country to move in the direction of greatness.
I will really appreciate it if the special prosecutor Kissi Agyebeng makes this issue his first case of Public service duty and probes into it. That will show how much readiness he has to fight the corruption fever.
By Adom Desmond