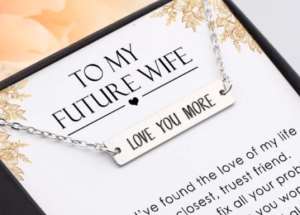 I love games and I love competitions. In secondary school, I was a member of my school debating club. We went for competitions. We debated on lots of topics. Sometimes we supported motions that we didn't believe in and sometimes we stood against motions that our hearts supported. We won some competitions and lost some.
When I was a player in my community local club, we competed with clubs, winning sometimes and losing others.
I love competitions! But I hate that which would usually take the better part of you. That's the competition I am in for my future wife. I had presented myself to her as the best suitor. In many occasions, I would make her aware that the best thing to have happened to her, was my coming into her life. She has other suitors, this I know. I know her suitors-my competitors.
They are old fashioned. They were arrogant to her some time ago. They used to communicate with her once a month and later once a year. Between my future wife and her suitors, was a sour and bitter relationship. It deteriorated and finally, there was no relationship.
I actually won her heart because she became infuriated and incensed with the profligate, uncaring and pompous lifestyle of the old suitors. The game of dating is like planting a tree, you must nurture it well to make it grow. But it is often also like a business entity with competitors one must find ways to undo.
Knowing that my future wife needed a modest husband, I promised her I shall be so when my proposal is accepted. I knew her level of gullibility. I promised her beads, necklaces, perfumes, wigs, golden earrings, Brazilian hair, shoes and many more freebies.
One thing that my father knew me for and which set me apart from my siblings was my unique ability to make promises. I remembered a day that we competed among ourselves on who was the greatest promiser and I beat everyone including my elder brother. My future wife's heart was won with the pack of promises that I gave to her. And the contract of love between us was sealed.
However, on the eleventh hour in the eve of our wedding day, something happened. My elder brother used to announce in the house that he had four wives just because he was dating four ladies. And our dad would remind him that, until he brings them home none of them was his. Today, I reason with my dad.
Before the eve of our wedding day, my future wife's suitors like the cat who didn't know how to give promises, came back in a grand style, promising to increase the dowry. Those volunteers who usually came to play calabash to entertain the newlyweds were also promised their pay.
Her suitors uncharacteristically came with promises of taking her to the moon. They had promised to buy her father a horse yet horses are the preserve of our community chiefs.
Previously, whenever they "entered her", they lasted not up to thirty seconds. But today, they are promising five hours and beyond with multiple orgasm assurance. Further, they have promised to provide a monthly stipend to my future in-laws and everyone in their family are entitled to a carton of dairy milk a week from New Zealand.
But I can't sit aloof for my future wife to be taken from me. At teen age, she was my owl of the night. While asleep at night, she would visit me in my sleep. Many years ago, I remember writing to her that I was ever ready to break a bank vault for her. So I am not going to relent on this fierce competition.
But whatever my competitors would do, I have an antidote to all including their promises.
First, I had already documented somewhere in my diary that I was going to buy her dad a horse on our wedding day.
On my to-do list, I had written that during the first week of our wedding, the entire community shall be fettered and the money to pay the local entertainment guys have been budgeted for.
Last week, I bought viagra hoping to improve my performance when we tie the knot and I have already secured a rocket for as to travel to mars for our honeymoon.
What else does my future wife suitors have to promise? Anything that I promised, I have delivered. Anything they have promised or would be promising, I have "delivered".
But if this should fail me, "elopement" as was used by Atia to secure his wife shall be the only avenue for me to get my bride. I am ageing. Am I living by my name? Let's see.
David Adumbire
RIPS, University of Ghana.