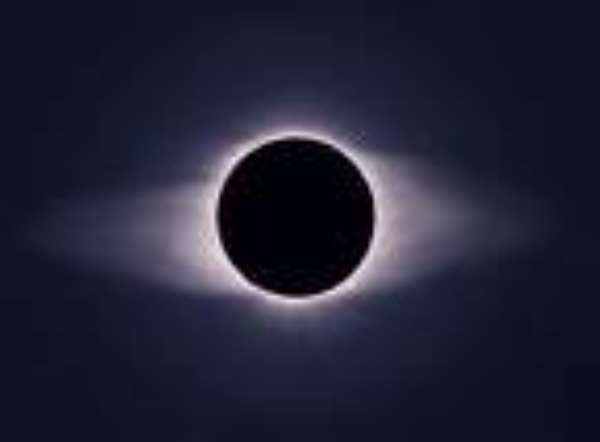 Six months after the eclipse of the sun, Ghana may experience another eclipse before the end of this month.
Information gathered indicates that the planet Mars will be the brightest be the brightest in the night sky on 27th August 2006. This will bring about the solar eclipse. When ADM contacted the Meteorological Service Department, they said they have not had any information prior to its occurrence, but did not also rule out the fact that, "it is likely it can happen".
A forecaster at the Ghana Meteorological Service Department, Rev. Stephen Nyarkotey, said that because such occurrences are natural, it is sometimes unpredictable.
He said at the moment the department has not received any information of that sort, but they will ascertain what would actually happen and inform the public accordingly.
"We are going to work on it and by the close of the day or early tomorrow morning, we should be able to tell Ghanaians sometimes whether it will occur or not and what they should expect if it is really going to happen that day", he said.
Reverend Nyarkotey noted that such an eclipse has never happened in Ghana or any country in Africa. "It is been happening a number of times in some countries, but none has ever happened in any country in Africa", he said.
He stated further that in the galaxy, the planets cross the path of each other because they are all in circulation. This is because sometimes some of them move faster while others move slowly. Dr Emmanuel Amamoo- Otchere of the University of Ghana told Peace FM, a local radio station in Accra in an interview about the possibility of an eclipse occurring.
The eclipse of the moon occurs when there is a curious mix of celestial sizes; distances and orbits. When the moon orbits about the Earth, it gets directly between the sun and the earth. The moon can obscure all or part of the sun. exactly what happens depends on minor changes in distance and position.
Orbits are not perfectly circular, but instead are slightly egg- shaped, so the distance between the earth and the sun changes as earth orbits around its host star, and the same thing happens as the moon revolves around our planet.