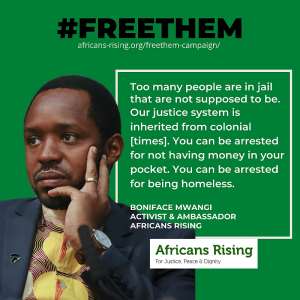 Africans Rising for Justice, Peace and Dignity is a movement that believes that imprisonment in the time of a global health pandemic is an absolute injustice and a potential death sentence for all people living and working in prisons. Our #FreeThem campaign is a determined effort for radical change. We are calling on all African governments and heads of states to release people accused of non-violent crimes from detention, including journalists, human right defenders, activists, and political dissidents.
"The COVID-19 crisis is a call for unity and peace," says Africans Rising Movement Coordinator Muhammed Lamin Saidykhan. "Governments should not put at risk the lives and well-being of citizens."
Ethiopia, Zambia, South Africa, and Rwanda have all taken steps to reduce their carceral populations, as suggested by the World Health Organization. Now, the Africans Rising movement is asking them to go further in this effort by releasing more people and inspiring other countries across Africa to follow in their steps.
Through the #FreeThem project, we are engaging our 30,000+ members in candid discussions, social media, and letter-writing campaigns to African presidents to amplify this demand for justice, peace, and dignity. Our vast network of activists, community leaders, and concerned citizens are tireless advocates of human rights and together we can help end the spread of COVID-19 across the African continent.
The story of Africa's redemption from this devastating pandemic has yet to be written, but our movement and our members demonstrate the leadership and courage of African people during this time. We know that none of us is safe from this disease until all of us are given the opportunity to live safely and with dignity.
Our #FreeThem campaign will continue throughout the end of 2020. We will continue to host a series of powerful discussions every Friday with African leaders and activists working in their communities to defend human rights in the time of COVID-19. Our next online conversation is Friday, August 14 at 3PM GMT. You can find out more about this campaign by visiting our website or emailing [email protected]