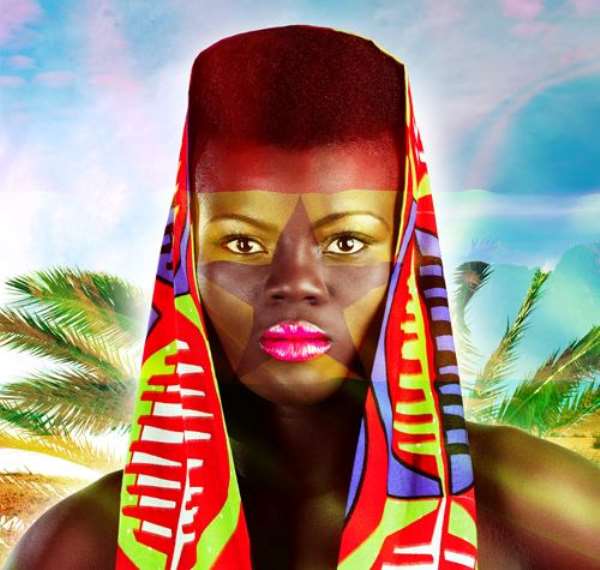 Those imbeciles who say otherwise must come and hear wisdom. I said it the other day that, because she is not allowing them to either manage her and chop some of her money and fame or chop herself, that's why all these so-called bloggers or entertainment whatever come out to say all manner of trash about her.
Can you compare your cosmetics whores singers to her standard and quality of music? Just as Kelvin has said, the lady is of international standard and you what to compare her to your local prostitutes here, who allow themselves to be slept with by you before they can shoot to fame. I beg you can't get that from a culturally well brought up ladylike Wiyaala. Go look for those who you can sleep with and promote them or their nonsensical music stuff and leave her alone. She's simply doing what makes many happy and that must be it.
Gather all your so-called harlots singers and let's see who singers better than this girl you said doesn't count but counts only when you're making your unfair comparison out of nothing but sheer envy. Maybe, many of you are envious of her achievements so far. She might not be that fabulously rich like those your prostitutes, who are willing to expose their nudity at your call, but she is rich and blessed with the blessings of the Lord in what she does. She is happier than happy when she sees others putting up a smile on their faces with her music and performance. What else must make one happy in life? Money? That's your f...king thought.
So you want her to bleach her skin and do all that will let her look the soft skin you want to sleep with. She loves the way her God created her and will appreciate that than to turn round and insult God that, He didn't create her well. Bleaching to me and many others is an insult to God. Therefore, don't expect everyone to insult God by bleaching to look the way they shouldn't have looked. Your choice and preference isn't what everybody wants. She isn't ready to debate God's decision and wisdom in creating her. She will forever be herself once many accept her with the " hard skin" tag you put on her. We those enjoying her music aren't complaining so why do you?
Question is, must it even be the voice or the appearance that must matter in music? I thought we have a stage where we display beauty? But why all these hubbubs about her skin and beauty then? Is she contesting to be selected as a beautiful lady or she is using her music to make others happy, educated, and entertained? Here in Ghana, we like setting our priorities wrong. We usually apply the right medication to the wrong place of pain. How can your stomach have problems and you go to take pain killers meant for the head? But that's what our political leaders, shareholders and many opinion leaders in society do and which is making us not develop.
I can also reason with Kelvin when he said it's because of where she comes from. Maybe, if she were one of your owns you wouldn't even think a second about how she looks but what she does. This selective and unfair way of handling some national issues is also killing many young talents in this country. Even some times we see it in politics, football and other areas, where selection of people to represent the country becomes either political or tribal. We aren't helping ourselves and must stop it now.
Again, it could be that, she isn't yielding to your lustful demands of wanting to sleep with her and you have therefore chosen to run her down. That won't wash either. Because, many believe in what she's doing. And that goes beyond the borders of this country. We should therefore be glad we have her as a Ghanaian no matter how ugly or hard skin she's made of. At least, thanks giver voice isn't hard and ugly.
Let's learn to encourage and not discourage our own, especially when it's a lady and she's doing better. We're quick in extolling foreigners to the disadvantage of our own and this attitude kills many talents in our youth, who could have even been doing better in many areas by now. Wiyaala is like the biblical prophet, who is not accepted by her own people. However, she's making it bigger in the international community if we like it or not and we must rather be glad for what she's doing to promote the image of this country rather than attempting to run her down.
She's humble and modest in her lifestyle. Despite her performance on international stages across the globe, she eats, drinks wear etc what any local girl will do and that alone must inspire the young girls growing up to know that, home is indeed home. I can tell you if she were like any of those ladies with the soft bodies tag on them, she wouldn't even dare go back home to stay and work with her own people. East Legon and other expensive living areas would have been her places of choice to live in. The idea that " I'm now a celebrity and can't mingle with these or those people isn't part of any humble, modest and well-trained person. What you are looking for in her, you can't get it. For it's considered highly immoral and uncultured where we come from.
Ghanaians real music lovers are watching
FAB