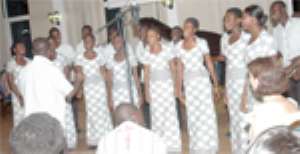 Choral music, unlike contemporary gospel music, is a type of music most youth do not appreciate.
Some youth Beatwaves interviewed disclosed that they preferred music that would make them dance and that choral music sometimes was boring.
Nonetheless, there is a group of youth who have come together to form a choir which has made a mark both at home and abroad.
The Winneba Youth Choir, known to be the number one choral music group in the country was founded in May 1989, under the patronage of Mr. George Mensah-Essilfie and Mr. John Francis Arthur-Yamoah (Paa John).
The choir has progressed steadily to the extent that it is now recognized as the most outstanding youth choir of the nation.
In March 1998 the choir was incorporated and regist¬ered as a non-profit making association, with the objective of providing a platform for the education and development of the youth in Winneba and surrounding towns through the medium of singing. It is inter-denominational.
Members of the choir are between the ages of 10 and 22 and are made up of Primary, Junior and Senior High School students.
The choir remains under the of Paa John, who started conducting choirs from the tender age of 8 years when his musical talent was discovered.
He is currently studying for his music diploma at the music academy of the University College of Education, Winneba.
With a vision to remain an internationally recognized Youth Choir, that projects a positive image of the African youth and African choral music; the Winniba Youth Choir pursue this vision through hard work, adopting the posture of a learning organization, and the formation of productive associations with other internationally acclaimed choirs.
Whilst remaining distinctively Ghanaian, the Choir blends its repertoire with songs from all nations of the world.
Membership of the choir is open to all children living in Winneba and surrounding villages. Current member-ship beat waves leant is approximately 130.
With 18 years existence, the Choir has contributed positively to the development of over 1,000 youths in its catchments area.
The Choir's international exposures include its joint performances with the Bavarian Police Band in Munich and Bamberg in November 2002, with Ron Kenly, Rodnie Bryant, Rebecca Malope and others.
In Benin in November 2002, with Hugh Masekela in Accra in December 2002, with Dr. Femi Akinkugbe (Soprano) in Lagos Nigeria in September 2003, and with Stevie Wonder in Accra in April 2004.
In August 2004 the Choir hosted the Osnabruck Youth Choir from Germany to a joint concert in Accra.
Also in July and August 2005, the Choir performed with the National Children's Choir of Bahamas; toe Gordonstoun School Choir from the UK in March 2006, Whitney Young Concert Choir
From Chicago in June 2007 and, by courtesy of the US Embassy Accra, the world renowned Fisk Jubilee Choir in July 2007, and the Morgan State University Choir in August 2007.
Six members of the Choir undertook a one month attachment with the Os nabruck Youth Choir in September 2006, and one member Choir joined the World Youth Choir in July 2007.
The Winneba Youth Choir has the following musical publications on Compact Disc and Cassette, to its credit: "Celebrate Christmas with the Winneba Youth Choir" & "Peace On Earth" Volume 1, 1998 & 2005 respectively; "Favorite Hymns & Anthems" Volumes 1,2, & 3" 2000, 2002, & 2005; "Rotary is Good" a collaborative recording of Rotary Songs with the Rotary Club of Accra - 2000; "To God & Country Vol. 1" a selection of Ghanaian Patriotic and other Choral Anthems - 2001; "Ghana Praise" Volumes I & 2, a selection of Ghanaian popular praise songs with full instrumental
Accompaniment - 2002 & 2003; and "Worship" Volume 1 - 2005.
The choir has received many national awards in its credit.
Some included; choral group of the year award for three year running from 2000-2002, best mass choir in 2003 , the national awards for promotion of tourism through music as well as special marketing awards from the Chartered Institute of Marketing Ghana , just to mention a few
As it's celebrate its eighteenth anniversary, the Winneba youth then joined other celebrities and musicians such as the Wendy Hymes, George Francois of United States and Rodger Pine ,and Rachel Barton of Italy in celebrating the event.