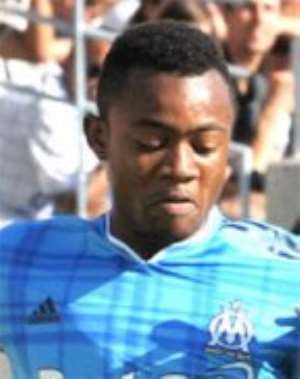 Jordan Ayew — for debut
With his blend of experience and youth, Black Stars coach Milovan Rajevac hopes the team will be able to reproduce the same performance reminiscent of the side that easily booked places for the 2010 Africa Nations Cup and World Cup tournaments.
This weekend, the Black Stars begin the next phase of their international journey when they take on Swaziland in Lombamba in the qualifiers for the 2012 Nations Cup.
Though Rajevac joined the 2010 campaign in midstream, he is hoping the Stars will have a flying start when the 2012 campaign kicks off, expectant that some of the mistakes the team committed in 2009 will be avoided.
Under Coach Sellas Tetteh and against Lesotho in South Africa, the Stars gave up a 3-0 lead to draw 3-3 and also lost to Gabon, but wins at home ensured the Stars advanced to the final stage of the qualifiers for the utimate tickets to Angola and South Africa.

" We are not going to underrate Swaziland.
At this point, every team is a threat and every point counts. We have begun a new phase and it is important we get off to a good start to boost our confidence," Coach Rajevac said of the assignment against Swaziland.
Yesterday, the team left for Johannesburg where they will be joined by the foreign-based players for their final training before moving to Swaziland on Friday for the match.
The Serbian coach has maintained virtually his World Cup squad and appears not ruffled by the retirement of talismanic skipper, Stephen Appiah, and ace midfielder, Michael Essien's decision to take a rest from national duties.
Coach Rajevac earlier this month used a friendly against South Africa to try out some youngsters some of whom he has maintained for the Swazi trip.
The invitation to the youngest of the Ayew brothers, Jordan, to join the team is only an affirmation of Rajevac's rebuilding process for the future.
" It's good to think of the present but it is equally important to plan for the future.
We can't rely on just experience neither can we succeed playing only the young players.
There should be a plan to make the most of both worlds and that is what we have set out to achieve.
"The good thing is, we are blending beautifully, experience with youthful agility," Coach Rajevac said.