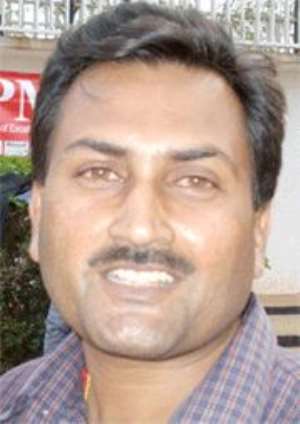 Poor batting, compounded by injuries and fatigue that plagued the Ghanaian cricket team, contributed to a 145-run loss to defending champions, Nigeria, at the Tafawa Balewa Square last Sunday in the on-going North-West Africa Cricket tournament.
Ghana only managed to score 65 runs all out in 24 overs, failing to reach the target of 210 runs which the Nigerians had set in the first innings.

 The Ghanaian team, as at last Sunday had played Sierra Leone,  The Gambia and Nigeria in a three-day outing, unlike the Nigerians who had a two-day rest after playing the The Gambia in the opening match.
 
And as expected Ghana's opening batsman, Francis Dake and Abdul Karium Sumaila had to play whilst battling with bouts of fever, while top bowler, Matthew Bawa, had to play with a knee injury.

 Matthew's twin brother, Mark collapsed during the 39th over and had to be attended to by the medical team at the oval for about 25 minutes. He was therefore replaced by Prajul Pilai.

Ghana started the match on a bright note by fielding and bowling well. Simon Ateak and Captain Peter Ananya bowled a wicket each while Coach Bhupinder Brar bowled two wickets with his spin bowling. Matthew Bawa once again showed a lot of bowling skill to catch four Nigerian batsmen.
 
But the defending champions and hosts sailed through to the 50th over and scored 210 runs.
 Disatster, however, struck in Ghana's innings as the team was eight wickets down by the 20th over.
 
Opening batsman Francis Dake was caught out in the first over, Simon Ateak in the seventh over and Rufus Ntiamoah in the eigth over. The accurate and fast-paced bowling by the Nigerians continued and this took out Lawrence Ateak, James Vifah, Bhupinder Brar and Captain Peter Ananyah. The nail was put in the coffin for Ghana when Abdul Karim Sumaila was bowled out in the 23rd over.

In a post- match interview, an elated Coach Ewa Henshaw of Nigeria said the victory over Ghana was expected since his country are at a higher level in international cricket. "Nigeria is an associate nation and Ghana is an affiliate so definitely our level of play was of a higher standard.

Cricket is a very unpredictable game, so until the last bowl we cannot conclude that we have won," he said. Ghana also lost to Nigeria last year in the final of the maiden North-West Africa Cricket touirnament played in Banjul, The Gambia.

Story by Nathaniel Attoh