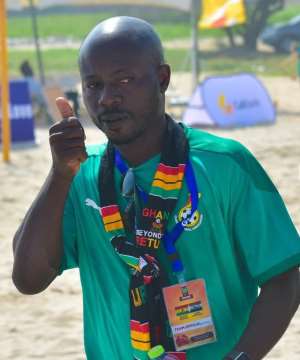 Mr Julius Ceasar Bekley, the assistant head coach of the male senior national beach soccer team, the Black Sharks of Ghana has said the return match against the Sand Pharaohs in Egypt will be a deciding game for the qualifies.
According to him, the race to the CAF Beach Soccer AFCON in Mozambique has just started and they will do everything possible to make sure the Sharks qualify for the AFCON.
Mr Bekley said this in an exclusive interview with Evans Worlanyo Ameamu of ModernGhana News just after the Black Sharks beat the Sand Pharaohs of Egypt 6-5 at Laboma beach, Accra on Saturday, July 23.
"My brother, a game against North African countries is always difficult due to the several mind games that opponent teams encounter with them," he stated.
He noted that a draw game in Egypt was enough to send the team to the AFCON.
"At a point, you could see that the Egyptians were leading with a goal, and that brought our attention to bring in some technical ideas which worked to perfection," he added.
Going to Egypt for the return leg, the assistant coach added that they will be going back to the drawing board, review their matches and correct their mistakes.
"Our 100% home undefeated record is on, am soo much happy for that," he intimated.
He assured Ghanaians to rally behind the team with full support as they battle it out for the final qualification match in Egypt a week later.
Black Sharks Defender Kini Ticor who scored the first goal for the team within 2 seconds and Reuben Semabia who was the most valuable player of the match promised they will qualify for the AFCON 2022 that will be hosted by Mozambique in October.
Meanwhile, Nigeria qualified automatically for the Beach Soccer AFCON after their opponent Libya was reported to have withdrawn from the qualifiers.
Other AFCON Beach Soccer qualifiers played so far:
Seychelles 3-5 Madagascar
Malawi 3-2 Tanzania
Ivory Coast 7-6 Morocco