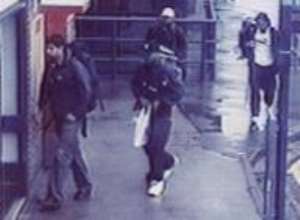 LONDON (Reuters) - British security services had come across two men who went on to carry out last year's July 7 bomb attacks on London but did not believe them to be urgent threats, a parliamentary committee reported on Thursday.
Mohammad Sidique Khan and Shehzad Tanweer were among four British Islamist militants who set off rucksack bombs on three underground trains and a double-decker bus, killing 52 people and wounding more than 700.
The attacks took place as British Prime Minister Tony Blair hosted a gathering of Group of Eight world leaders in Scotland. Security officials had lowered the general threat level to the country two months before the attack.
The British parliament's intelligence and security committee said the Security Service -- commonly known as MI5 -- had come across Khan and Tanweer "on the peripheries of other surveillance and investigative operations".
But the committee said it was understandable that intelligence officials had not pursued the two men, given their limited resources and other urgent priorities.
"At that time, their identities were unknown to the Security Service and there was no appreciation of their subsequent significance," the committee's report into the attacks said.
"As there were more pressing priorities at the time, including the need to disrupt known plans to attack the UK, it was decided not to investigate them further or seek to identify them," the report said.
"In light of the other priority investigations being conducted and the limitations on Security Service resources, the decisions not to give greater investigative priority to these two individuals were understandable," the report concluded
In a video statement released after his death, Khan, hailed al Qaeda leader Osama bin Laden as a hero and said attacks would go on as long as "atrocities" were committed against Muslims.
The committee noted both Khan and Tanweer had spent time in Pakistan and it was likely they had come into contact with al Qaeda figures. But it said the extent of any external control over the attacks was unclear.
The committee said the attacks had shown it was important for police and intelligence agencies to work together to tackle the threat posed by the "radicalization of British citizens".
"We welcome steps that are now being taken to achieve this although, given that the 'home-grown' threat had clearly been recognized, we are concerned that more was not done sooner," the report said.
Some analysts have said Blair's decision to back the U.S.-led war in Iraq has helped radicalize some British Muslims. The government has said extremists have distorted and the aims of the war and there can be no excuse for the July 7 attacks.
The committee also said it was "not unreasonable" for security officials to have lowered the threat level in May 2005.
"The reduction is unlikely to have altered the alertness of responders (including the emergency services) or to have affected the chance of preventing the 7 July attacks," it said.