When Did Violence Become An Answer? A Question To The Ghanaian Student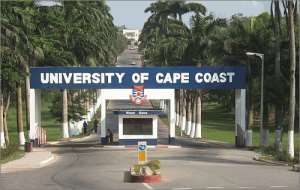 An educational system that places more premium on academic and career development than on character or moral development is a flawed educational system, and with the recent spate of growing hooliganism in our higher educational institutions in Ghana, it can fairly be said that we are treading a very dangerous path towards our nation's development.
The youth in every nation is said to be the future of the nation, and if the current youth in most of our tertiary institutions in Ghana falls in the category of the youth which are tipped as the future of this country, then certainly Ghana has no future. Why do I make such a wild assertion? This is not based on emotions, but as a conclusion of the logical inferences made based on the growing trend of vandalism witnessed over the years in most of our tertiary institutions in Ghana.
Ghana has been battling the rise and usage of vigilantes over the years. This is because vigilantism breeds general insecurities in the nation, especially during electioneering periods. Common of the works of these vigilantes are destructing properties of political opponents, stealing of ballot boxes and the promotion of things that basically mars the beauty of electoral processes.
Due to the general insecurities caused by the insurgencies of these vigilantes who are mostly owned by political overlords, most political parties in Ghana adopted a policy in 2019 that sought to disband any such group as politically owned and sponsored vigilante groups. This is because vigilantes are best known for their hooliganism or Vandalism.
The disdain that greeted the Ayawaso by-elections violence in Ghana in 2019 showed how obnoxious the works of vigilante groups are abhorred by the nation and most of its citizens. Despite lessons learnt from these instances of the atrocities of vigilantism and vandalism in Ghana, the war against vigilantism and vandalism has not yet started, to talk less of ending it. This is because the set of people who are supposed to be the intellectuals and to give hope that hooliganism is nearing its end are rather fueling it, making it difficult to believe there is a better and brighter end in sight.
In the 2016/2017 academic year JCRC (Junior Common Room Council) Hall Week celebrations in the University of Cape Coast, Atlantic Hall, which were celebrating their Hall Week, had a brutal clash with Oguaa Hall on a very quiet unreasonable issue which violence should have never been a part of the approaches in resolving the situation at hand. The clash led to the destruction of lives as one affiliate of the Oguaa Hall till date has become paralyzed, and the destruction of properties worth millions of Ghana cedi's being a cost to foot by the University.
Common brutal attacks between the affiliates of the Casley Hayford Hall (CASFORD) and the Atlantic Hall (ATL) both in the University of Cape Coast has become a normal irresponsible act participated often by students who should be focused on their main purpose of being admitted into the University, but No. If it is for the sake of disagreement or discontentment, when did violence become an answer?
This is not the beginning of it, hooliganism amongst students across the length and breadth of the various tertiary institutions in Ghana has become widespread and very troubling, and the earlier we took measures to neutralize grounds for these irrelevant uprisings, we as a nation will be failing and our education system will be a total catastrophe.
Similarly, in the University of Ghana, rivalries between the Mensah Sarbah Hall and the Commonwealth Hall leads to several damages almost each year. In 2016, towards the matriculation of fresh students into the University of Ghana, a quiet insignificant comparison about which Hall is the greatest between Commonwealth Hall or Mensah Sarah Hall led to the destruction of lives, and properties worth millions of Ghana Cedi's. If it was on the basis of disagreement, how does vandalism become an answer?
Again, University Hall, popularly known as "Katanga" Hall and the Unity Hall which is popularly known as "Conti" both in the Kwame Nkrumah University of Science and Technology (KNUST) has been at the forefront of countless student's battles for very meaningless reasons. These battles often span for some few hours but the damages it causes are terrific, securing wounds of various degrees, destruction of school and other private individual properties, amongst others.
In 2019, the wind of destructive and rowdy change overtook some of our highly esteemed universities in Ghana, Kwame Nkrumah University of Science and Technology (KNUST) and the University of Education, Winneba. This wind of change caused by the misunderstanding between students and school management on issues of administrative decisions led to the close down of these schools as there were widespread chaos leading to the destruction of school properties. My simple question is even if students do not agree with management on issues concerning students when did violence become the answer?
To cut the sod for the 2020 year of student's violence in our tertiary institutions, Oguaa Hall and the Atlantic Hall of the University of Cape Coast has launched a warfare that has again seen some students being admitted at the hospital, and the destruction of properties similar to what was recorded in the 2016/2017 academic year. This has led the University management to take a tough decision to halt the Hall Week Celebrations for some remaining halls for the academic year. Why should we resort to violence any time we get to a disagreement with our colleagues despite the academic environment we find ourselves? When did vandalism become the answer?
The general analysis of the issue is that the act of resorting to violence as a means to settling misunderstanding is an uncivilized approach. The worst case for such violence, especially amongst University students is that it stripes them of all integrity they could have merited by virtue of their scholarship. This brings them at par with people who could have otherwise been classified as tumultuous and barbaric illiterates or perhaps Vigilantes.
Character development of university students is very pivotal to their career development, and universities across Ghana must put measures in place to inculcate morality into their students. A way of ensuring morality and sensitization against the use of violence is by organizing peace and conflict resolution programs, seminars and workshops for students at least twice every semester to educate students on the need for peace and appropriate ways of resolving conflict.
To check the activities of some recalcitrant students, professional security men from the Police Service should be deployed around campus to check the conduct of students on daily basis and massively on special occasions to prevent any unruly activities. Tough sanctions should be adopted to punish perpetrators of chaos on campus, for example being imprisoned and being processed for the court could help deter some students from engaging in such acts of violence. The Universities must learn to not shield these individuals from the laws. By so doing some students will comply with the ethical way of doing things.
Developing graduates who will go out of school and behave like uncivilized agents that use violence as a means to resolving misunderstanding, only make our education system a mockery. The education system operated in Ghana has been accused of being problematic and of doubtful utility to the nations development, hence the need for students to identify their role in making themselves better by looking out for avenues to enrich themselves and imbibing certain moral values into themselves is very key. Either than that majority of people will gain a tertiary educational degrees and diplomas but may not be necessarily educated people.
Let's all learn to be disciplined. Let's adopt the right ways of redressing conflict through non-violent processes, and let's learn to live in peace with our brother's and sister's. Vandalism never settles the scores, negotiations does. Let's give love, forgiveness and mutual respect a chance in our academic society.
Author: Michael Ofori