Zipline Technologies Will Fly At Night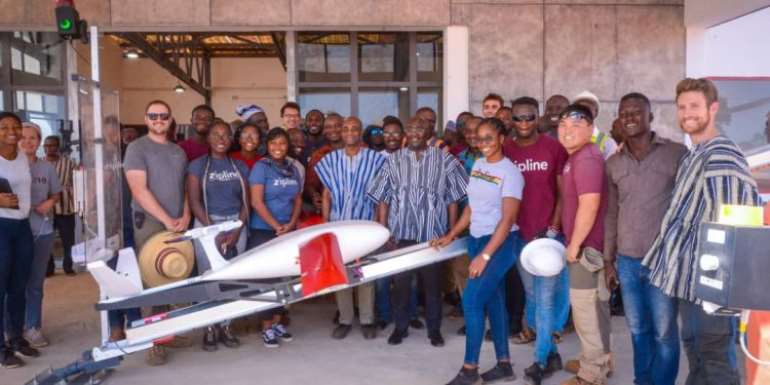 The company spearheading the delivery of essential medical supplies to hard-to-reach areas in the country has sought permission from the Ghana Civil Aviation Authority to expand flight routes to fly at night.
Currently, Zipline Technologies is operating in the Ashanti, Eastern, and Greater Accra Regions.
Speaking to journalists in the North East Region, Head of Community Integration at Zipline, Dr. Simon Batamya Aseno, said they hope to cover 60 medical facilities by the end of 2020.
"In future, we are hoping to be able to expand our radius to about a 120km from here and then to serve more districts. One unique thing about this distribution centre is the fact that we are looking to get regulatory approval from the Ghana Civil Aviation Authority and that will allow us to fly at night to be able to meet the needs of health facilities as well as patients. We have had exceptions where they have actually given us the approval to fly as late as 11pm and we have actually shown results to them that we are capable of flying at night".
Vice, Dr. Mahamudu Bawumia, on Sunday, December 15, 2019, inspected ongoing works at the site for the third medical drone delivery service at Kukua near Walewale in the North East Region.
When completed in January 2020, the facility will host the largest warehouse under the drone programme and immediately serve 60 health facilities, with an expected scale of up to 500 health facilities within a 100km radius in the five northern regions by the end of 2020.
Apart from the main operational facility which is 95% complete, work is also ongoing for the construction of a 22-bed housing project to house core staff nearby and ensure operational efficiency.
Like the two other facilities at Omenako near Suhum in the Eastern Region and Mampong in the Ashanti Region, the Kukua facility will be run by an all-Ghanaian crew of engineers, health care professionals, and logistics personnel, and paid for by the private sector through their corporate social responsibility obligations with no cost to government while support staff are recruited locally.
Work is also ongoing at the fourth distribution centre at Sefwi Wiawso in the Western North Region. It is expected to be operational before the end of 2020.
—citinewsroom