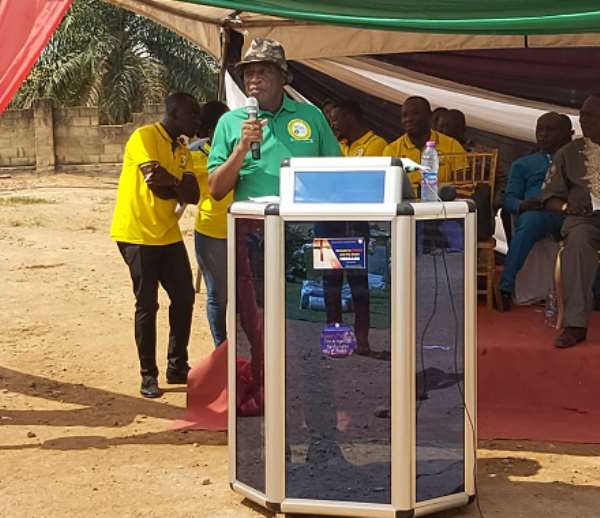 The Municipal Chief Executive (MCE) of Asokwa Municipal Assembly of the Ashanti region, Akwannuasah Gyimah has charged residents within his municipality to engage in rice farming to reduce dependence on foreign rice in the country.
He has charged farmers in the municipality to venture into rice farming as a measure to reduce importation of rice.
Speaking at this year's farmers' day celebration held in the municipality, he stated that Ghana imports over GHS 4 million worth of rice annually; a trend he believes can be changed when more Ghanaians engage in its cultivation to ensure regular supply.
"Each year, Ghana imports over 4 million Ghana cedis for rice alone. We can only change this when we engage in serious farming activities. This will significantly reduce the amount we spend on importation of rice. The government is, therefore, entreating small scale farmers especially to also engage in its production to help the economy grow", he said.
He further encouraged small scale farmers in the municipality to continue with their hard work. He explained that the government is aware of their challenges, hence the huge investment in the processing industry to make sure that farmers have a ready market for their produce.
The Municipal Director of Agriculture in the municipality, Martha Ashami Armah wants parliament to pass laws to guide the importation of rice into the country.
Speaking to Citi News on the sidelines of the farmers' day celebration, she posited that a deliberate plan through legislation will help promote the consumption of local rice nationwide and will contribute significantly in addressing the matter.
She has also urged the government to direct all school feeding coordinators to strictly use local rice as a measure to increase its patronage.
"I think the first step is for the government to cut down the importation of foreign rice so that we can eat what we grow. Also, with the school feeding programme. Please, there has to be a legislation on it that, they use local rice to feed the children. I once had a training with the school feeding cooks and their problem is, they bring them foreign rice. They have to stop. The children will have a taste for local rice. So if we can start feeding them with the local rice right from the basics, they will have the taste for it".
Asokwa, which is a new municipality carved out of the Kumasi Metropolitan Assembly, joined in the celebration of farmers' day for the first time on Friday at Aprabo.
The 2019 edition of the farmer's day celebration was under the theme, 'Enhancing Small Scale Agriculture Towards Agribusiness Development '.
The occasion which was the 35th farmer's day celebration was used to award farmers who had worked hard to contribute to the growth of the Ghanaian economy.
The overall best farmer, Emelia Osei Wiredu, who is known for poultry farming in the Municipality, expressed her delight and encouraged her colleague farmers to work hard and hope for better days ahead.
---citinewsroom