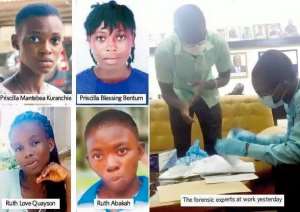 Priscilla Mantebea Kuranchie, Ruth Love Quayson, Priscilla Blessing Bentum and Ruth Abakah
Some of us wouldn't vote even if you put a ballot box in our rooms. It is evident that there is no meaningful difference between the major political parties or because the government doesn't care what they think, regardless of who is in power. The time is now for us to detach ourselves from the political process. There are a lot of stories desperately and penetratingly needing to be told right now! But politicians and people occupying the high offices have turned deaf ears. Millions of Ghanaians will continue to sit out elections, lament the status quo of the nation as much as we can, and till our voices piercingly penetrate their deaf ears. Until then, we will not get out and vote.
This is a delicate moment for Ghana, the country 'they' call beloved. The integrity of democratic institutions and offices is under assault from without and within, and basic standards of honesty, servitude, and decency in public life and work ethics are corroding. I am horrified at what had happened to the Takoradi girls and their families, and in many other 'poor' areas. Their fake attempts and promises, their shenanigans, hallucinations, and lies were in vain and 'they' live happily unconcerned.
When they need us for their gainful elections, they march in the streets, they go to town halls and with sugarcoated words, demand more from the same people they fail to represent and think less about. But none of our problems don't matter when they are elected. What then do we lose if we don't go out and vote?
The outcry of over twenty-four million Ghanaians could not rescue the four girls abducted in the Western Regional capital, Takoradi. So to the government and to the police, what happened to the suspects, evidences, signals and press conferences?
My heart bleeds for the people in the country.
Before and after every election, I ask myself that 'is every vote you cast in Ghana the opening line to a suicide note? But I have learned from all these murderous and inhuman behaviors by most of our leaders that if you come from a place where, you've seen betrayal, gunshots, and greed, you think twice about who you put your trust in. Of course we the voters have hearts, we are not scarecrows!
Let's rise the good people of Ghana. Let's speak until we're heard. And let's act until we see changes.
RIP Priscilla Mantebea Kuranchie, Ruth Love Quayson, Priscilla Blessing Bentum, and Ruth Abakah.
Nana Adarkwa.