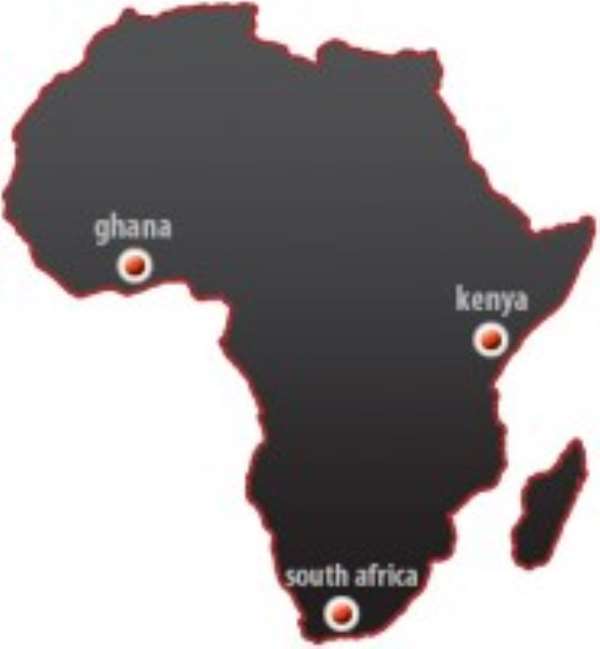 The People of Ghana are blessed with what I describe as the greatest African of all times.
Two policies distinguish this President Addo Dankwa Akufo-Addo from his predecessors, e.g.:
The Year of Return and
Free SHS in Ghana.
These two policies show clearly that this man thinks of the people and loves them.
At the critical time of our lives when great people have died namely Nelson Mandela, Kwame Nkrumah and Robert Mugabe, we thank God that he has bestowed upon us a person of love and vision. God bless him.
He is loving, kind, intelligent, visionary and embodies everything that can be described as perfect.
Recently we have been confronted with what is described by many as xenophobic attacks from Africans against Africans in the Republic of South Africa. We should exercise restraint here or else we may come to a false conclusion.
If this problem is not carefully dealt with by properly collecting and studying the facts we may derail what is dear to us all Africans, the AU.
First we should not call our South African brothers "Black Natives". This is insulting and is inappropriate. These are all Africans like ourselves, they are not "blacks", they are human beings.
Our condolences to the bereaved families of the dead and those who have been injured, we wish a speedy recovery.
It is however surprising that the general reactions of most Africans are that of condemnation. NDP does not share this view.
Historically what South-Africans have endured to be free at last is unimaginable. Oppression, seclusion, death, discrimination, deprivation, it has simply been a horror !
The psychological impact of Apartheid on these people has been devastating. Now, a report I saw lately, where our brothers still live, the housing conditions, it's simply unbelievable. These our brothers in South Africa have been traumatized.
On the other hand what I find surprising is the reaction of Nigerians; the people and the media talk of reprisals as if Nigerians are not notorious for crimes against humanity.
Almost 200 million people, many of whom are jobless and resort to any crime you can imagine; kidnappings, extortion of money, highway robbery, defrauding people and banks. My own dear friend and lawyer found his untimely death in Nigeria. He was the CEO of Ghana Diamond Corporation.
In all it is estimated that the number of Nigerians in South Africa is 27.000 people. The number of those peddling drugs is unknown. For immigrants from Nigeria to be dealing in drugs in a country where the people have not yet recovered from the traumatic experience is in itself a terrible thing. The extreme poverty, the lack of basic amenities of life, accommodation, toilet, food, jobs, lack of education, these could of-course not be attributable to the immigrants but to poor governance. It is a shame.
I suggest we do our utmost to hurriedly heal the wounds by sending a delegation led by former First Lady Nana Konadu Agyeman and some lawyers to hear from the source the South Africans narrative or views. This should be followed by an African Union Envoys to see on the spot the real problem facing the South Africans. The creation of jobs for the people of South Africa should be a priority for the government there for this is the cause for their revolt.
The number of Nigerians in that impoverished land should be reduced from 27.000 to five thousand foreigners. I presume that the 27.000 foreigners in a country where the people have been deprived of everything living for is the cause of this unexpected reaction.
Interestingly this reaction of the South Africans has occurred in East Germany where up to today Muslims, Africans and other non-European people are not acceptable there. The history of Hoyerswerda and incidents in Chemnitz as well as the creation of a right extremist party by name of AFD is a typical example of what has happened in South Africa.
These people in South Africa need immediate help and I think the rich whites should be taxed to help the poor. The situation is really dire.
The view of NDP is that slums must disappear in Africa and the distribution of wealth in Africa must be a priority.
Africans tend to be less prone to help other Africans. Solidarity is not our thing, this leads to our suffering. We must learn to help each other !
Recent attacks of racist nature by various European countries especially Germany against talented African footballers is the point I wish to make here. It is no secret that the monkey noise against African footballers started in Germany. It started in Hamburg when Anthony Yeboah, that brilliant Ghanaian footballer, was the envy of most who watched him play. He was booed sometimes holding Bananas in the most offensive manner. This behavior did spread to some European nations east and west. This behavior has not been observed in the United States.
The policy of the National Democratic Party is that our Foreign Office should write a protest note to all European nations and the FIFA officially protesting against this racial discrimination.
The various governments have to explain to us their methods to combat this hateful attitude. If the efforts of FIFA to stop these insults on African footballers prove ineffective the World Cup in Qatar have to be boycotted. All citizens of the various European nations will have to be expelled from Africa which will lead to a standstill in the relationship between Africa and Europe.
Another policy that the NDP will propose is to ensure that all university education is free. This can be achieved if every member of the Diaspora pays monthly 20 GBP.
In addition we shall expect contribution from all working Ghanaian graduates. This can do the trick and it will show our determination to rely on ourselves to propel us forward.
The success of the African Union will require a degree of conformity. We have to penetrate enough in our analysis of what to do. The NDP thinks we need quarterly meetings of Heads of States to talk mainly of governance. There should be unanimity of what to consider to be proper governance despite of differences in religion. This is Africa's day, never have we had such wonderful opportunity to open the gates of success to our people.
We should think of marriage laws, our religion, our behavior, environment, housing for the people, trading, laws, business.
These should be considered in terms of coherent policies and we must adhere to what we have decided on. Without proper infrastructure, rails, highways, the richness of our continent will not reach the people. We must be determined to succeed.
In trade and commerce we need a comprehensive investment deal with China, something in the range of well over one trillion Dollars.
"Ghana Beyond Aid" is another brilliant idea. In this respect the Ambassador of the Netherlands has shown disrespect to the people of Ghana. It is not the function of an ambassador to interfere in the affairs of a host country. I have noticed these tendencies especially among the Western European countries. This I suspect has been encouraged by our own citizens who play into the hands of these people. Our independence has been tampered with. We should be resolute about our sovereignty and aims.
Countries we have to be careful of are Israel and Saudi Arabia. We are a member of the Non-Aligned Nations. We should therefore remain neutral. These are two very dangerous nations, NDP shall never have diplomatic relations with. Our African project shall be destroyed before it takes off.
I warn President Akufo-Addo to listen very carefully. Today the information reaching us tell a different story about USS Liberty spying the White House apparently for Russia. Installing spying devices is a specialty. Ghana be careful !
Natural Disasters
Africa is a continent. The people of Africa are our people. The aspirations, fears and needs are our own. It hurts my heart to hear from a former President of Ghana that we helped the suffering South Africans and look at what they are doing to us. This shows clearly that people who speak like this have not heard of the Transatlantic Slave Trade. The crime against black South Africans is a crime against us. It is the crime of being black. They suffered in our name. We did not help them. We helped ourselves.
We shared their suffering with them, for what was done against them was done against us.
God help some of us to understand that the greatest stumbling block to our progress is racism.
We lack the necessary empathy to our brethren suffering from natural disasters.
Mozambique was totally drowned and Zimbabwe was not spared.
What help came from Nigeria or Ghana ?
Actually, the people on the Bahamas are our people.
Who has been helping them ? White people !
Do we wonder why we are called under-developed ? We have no love !
Simply imagine President Rawlings and Nana Addo are being attacked ?
The tirade from Mrs. Desosso against Nana Konadu.
The hate, the deviousness, the tirade, the result: theft of the common good.