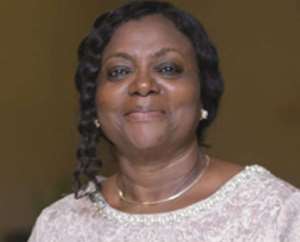 Adelaide Ahwireng
THE GHANA Revenue Authority (GRA) seems to be entangled in a conflict of interest scandal involving its board chairperson.
The GRA acting Board Chairperson, Adelaide Ahwireng has been tied in a conflict of interest situation involving the rental of two of her commercial properties to the GRA.
It is alleged that the the two buildings were rented out at an annual charge of GH₵ 1.4 million, an amount sources say is exorbitant, particularly considering the location of the properties.
The buildings in question include a three-story duplex and a two-storey sandcrete block property located in the Agbogbloshie South Industrial Area.
In the tenancy agreement between GRA and its Board Chairperson, sighted by Daily Guide, the Commissioner General of GRA, Emmanuel Kofi Nti, signed as the tenant whereas Madam Ahwireng signed as landlord.
The agreement was witnessed by one Edith Ablormeti and Philip Mensah.
The three-storey duplex commercial building comprising open spaces, wet ancillary areas was rented out for GH₵ 49,035.16 per month or GH₵ 588,421.92 per annum to be used as STO Office of the GRA .
The second building, a two-storey office accommodation sandcrete block property went for a monthly rent charge, according to the agreement, of GH₵ 50,400 or GH₵ 604,800.00 annually.
The tenancy agreement started on June 1, 2019 and expected to expire May 31, 2024.
Public Affairs Director of GRA, Bobbie Ansah, declined to comment on the issue when contacted by DGN Online.
More anon…
BY Melvin Tarliue