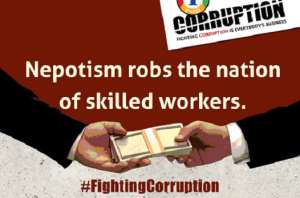 It is not corruption alone which is prevalent in African politics, nepotism is also deeply rooted in all African governments. Nepotism in the workplace means blindly favouring those employees who are related to you or are an important part of your personal life.
In the reconstruction of the maps of the power in African politics, families are given jobs and these malpractices are not only limited to presidents but also to ministers, secretaries of state, deputies, former rulers, and advisers.
The favouring of relatives and friends in assigning offices and the provision of all kinds of benefits are slowing the down the development of Africa. Many believe corruption is the worse crime in Africa but they underestimate nepotism which is equally bad for the economy of any country.
Nepotism doesn't only weaken the foundation of governments but also have a serious impact on the economy, especially in developing countries. African leaders during political campaign promise to fight corruption.
They speak ill against previous governments to win the heart of the suffering masses, yet when they come to power, they do worse than what the previous government did.
One of the biggest disadvantages when it comes to nepotism is most relatives are employed without a serious interview. In other countries, including Africa, many relatives are assigned to offices without the right qualification or skills.
Who examines a relative to determine if he or she is fit to take a particular job? The list of presidents, ministers and their alleged collaborators who have family ties in offices is very long and surprising.
Research reveals that most family members serving in various governmental administrations evade tax and the special subspecies of nepotism in the appointment of their relatives to certain government posts, allow them to use their positions to provide additional power and personal enrichment.
The higher level of nepotism in African politics continue to wear down the economy due to lack of efficiency, yet the government can not do anything about it just to avoid embarrassment.
In a phase, such as the lack of public confidence in African governments, combating nepotism and ensuring impartial recruitment procedures are fundamental requirements.
The question is: how can a president who claims to fight corruption fight against nepotism since everyone knows that corruption and nepotism are twins?
The increase in the level of relatives' appointment for governmental duties they don't deserve indicates the creation of power-sharing dynasty.
The risks of nepotism are often ignored by corrupt African leaders, yet what they have failed to realize is that in a professional environment, it is important that all employees are treated equally.
Where there is discrimination based on sex, religion, nationality, colour, etc., employee morale is affected, resulting in reduced productivity.
An employee's potential must be taken into account in a corporate environment, and moreover, personal and professional life needs to be kept separate.