Should construction of a new Parliament be Ghana's priority when her legislature still rely on allowances for rent?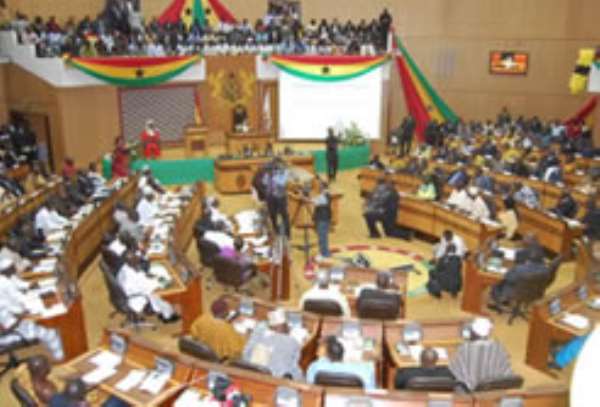 The idea and suggestions of some members of Parliament and opinion leaders for Ghana to construct a new chamber for her Parliament has got everyone talking with strong opposing views in recent weeks.
This multi million dollar debate has triggered vulgar and offensive attacks on especially leadership of our Parliament from the general public across and on different media platforms.
As this has become the most recognised and or significant political and Governance story in recent times, my friend, Maxwell Boachie, and myself as usual joined in the discussion. We engaged in a private deliberations on the call by some ranks of Parliament to build a new chamber for a Parliament which according to reports was renovated at an estimated cost of more than twenty million Ghana cedis (20 million cedis) in the year 2013.
Swiftly, we shared this thought that even if an amount that could be up to the tune of two hundred million dollars ($200 million) is freely available for exclusive use and or improvement of Ghana's Parliament, should construction of a new Parliamentary chamber be their priority?
As a trained Civil Engineer, I took it upon myself to research and find out what $200 million can do for Ghana in relation to general construction alone. I figured out that $200,000 would be more than enough for a private person to build a high security 4 - bedroom flat. This meant that even with an inflated $300,000 budget for one unit high security 4 - bedroom flat, a million dollar can build three of such units. This implies that $200 million would be more than enough to build at least six hundred (600) of such housing units.
In my opinion, this $200 million if available could be used to construct 'Legislative Home' to house all 275 Parliamentarians in Ghana. This home or housing units can be constructed with members of Parliament exclusively in mind. However, since there may be quite a number of excess units remaining if well planned, other critical figures in the country could be factored and accommodated also during their tenure of office.
Members of Judiciary, members of Council of State, ministers, directors and board chairs of public and state institutions could also be given individual flats at the 'Legislative Home' when necessary.
For me, this idea of permanent homes for MPs and some Government officials during their tenure of office is all important because it would save Ghana billions. This is because the Government spends a lot of money on yearly rent allowances paid to MPs and some Government officials. There have also been many instances where some public directors have been accused of lodging in expensive hotels at the expense of Government's purse; therefore if 'Parliamentary Home' is built, this would save the country from a lot financial losses.
Apart from saving the country from high expenses in keeping in our highly esteemed officials with respect to rent, the Parliamentary Home could be a great move to heighten security of the Legislature.
The legislature have over the years raised concerns about the need for the Government to improve their security and safety. This call especially heightened when one of their own J. B Danquah Adu was murdered at his own house by unknown assailants in February 2016.
I therefore strongly believe that if there is a special high security common estate for all Parliamentarians in Ghana, this would help improve their security. Respective units of the Police, Army, Fire Service can be stationed at the legislature estate to ensure absolute day and night security. Schools, clinics, marts and recreational facilities could be included in the design to enhance overall wellbeing and development of MPs and their family.
With regards to this, I think if '$200M 275 housing units for legislature' headline was what was leaked to the Ghanaian public, most people would have lauded and embraced the call. This is because Ghanaians are aware of the yearly high expenses of rent allowances on Parliamentarians.
The 'Parliamentary Home' can be managed in a way that one housing unit would be designated for each constituency; such that at every new Parliament after elections, new elected MPs and reelected ones would occupy their respective homes.
There are accepted means by which citizens may share their opinions and grievances concerning affairs of Government. This makes act by Economic Fighters League (EFL) opposing construction of new parliamentary chamber inside the floor of Parliament during proceedings inappropriate; and I believe every law abiding Ghanaian would condemn the EFL act.
However, during this hour on July 5, 2019, when the EFL interrupted proceedings in Parliament, video footage available to to the public from Parliament shows more empty seats behind Hon K T Hammond when he was addressing Parliament. These empty seats are seats that were supposed to be occupied by other members of Parliament. They must have been absent then. This has not been the case for only this video footage as most video footages of Parliamentary proceedings which is privy to the public show same trend of absenteeism.
If absenteeism is still chronic in Parliament, what would then be the need to construct a new chamber that would accommodate 175 more members than the current 275?
This draws my mind back to the call for 450 seater Parliamentary chamber. Does a 450 seater chamber means leadership of Ghana have plan of increasing Parliamentary seats to 450 in the future? I think if members of Parliament are absolutely committed to do what is right, Ghana would need not more than even a hundred (100) representation in Parliament to enhance growth and development.
In my humble opinion, even if Government would want to prioritise the comfort of Parliamentarians, I think they could consider building estates or homes to house all of them because they spend most of their time at home and not at the office or chamber.
I pray the Government of Ghana would take recognition of this intellectual submission and take the wisdom in it.
A safe and comfortable home for all Parliamentarians ought to be Government's priority in their exclusive quest for comfort for the Legislature.
God bless, our homeland, Ghana !
Samoa Mensa.