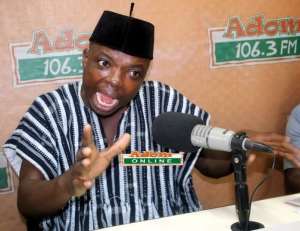 I never knew Abronye is a human with blood flowing through his veins, who has feelings and emotions until Saturday when I revealed a small secret about who really he is. I was shocked with how he was barking all over radio stations threatening me because of the motorbikes and his cash donations to his constituency chairmen.
If this is just one of his bad deeds and he is rushing to court then he should prepare to make the court his home because that will be the home for the two of us this year and 2020 if I start working on him. I will never tell lies like he does but will bring to light how corrupt he is as a person.
As for Shadrack Abrefa, I will spare him for now because he is still recovering from his recent lost in their Youth Election in the Bono Region, I can see he is frustrated and want recognition from his people hence his baseless and useless utterances in support of his weightless and ''loose talker'' Chairman.
Am shocked Abronye who said he will sue me for exposing him after his bogus submissions on several radio stations ended up again baselessly accusing John Mahama of been corrupt. This shows how confused Abronye is after knowing he is jail bound. This is someone who without evidence accused Hon. Asomah Cheremeh and his team of been corrupt just because he wanted to be a Chairman, this is someone without human heart who has lied consistently about out next President John Dramani Mahama. Today he is afraid of the truth which is leading him to face the special prosecutor.
I wish to tell Abronye am waiting for him but before then he should remember these words by his own party member Maxwel Mahama, the spoke person for Hon. Asomah Cheremeh;
The Fetish priest he defrauded in Wenchi is still seeking justice and will get him at appropriate time
He should remember he has questions to answer on how he Abronye who could hardly feed himself in opposition could put up more than two houses in Berlin Top in Sunyani in 2017/18.
He should tell the people of Ghana how much he took from those he said he helped to get immigration job from the Bono Region.
He should remember his ''fraud'' cases defended by Lawyer Asomah Cheremeh who today he calls names are still pending and will all be resurrected soon.
He should tell the world why he was sacked as a team member of government confiscated vehicles.
These are just few for him to ponder over while we progress.
I laughed when I heard Abronye bragged that he will end my political carriers in the Region, very funny indeed. Who is he Abronye to end someone's political carrier? He should know that he Abronye is a chairman without substance and a big disgrace to partisan politics.
His kind of Chairmanship is what Ewes will call AMEVOR KESE DUFIA. He can better find an Ewe person to explain to him what that means. He should know that those days of his Lord over the region because of his loose talk is over! No one is afraid of him and we the Youths of NDC are prepared for him in every form he will appear. He should know that today we are above intimidation!
Abronye should know that I have doses of medicines for his sickness given to me by his own people which he will soon be injected with and the whole world will know who he really is.
I wish to again tell him that he can parade his loose talk over his party people who don't see any importance of the Chairmanship job and not anymore on the NDC as a party. Before he talks about the NDC he should go through self-assessment before we shut him down completely.
I will end here because of my ill health and get time to work on him for the people of Ghana to know how corrupt he is.
AMEVOR KESE DUFIA! Efo Worlanyo TSEKPO REGIONAL YOUTH ORGANIZER, B/A. 0247046008.