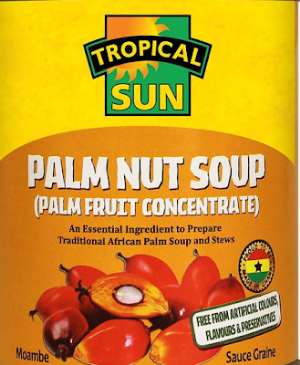 One of the best-canned food products from Ghana
Throughout Europe, are chain distribution of African shops, serving the need of Africans who want to feel at home. There is nothing more satisfying in Europe than cooking an African meal.
In the African food shops in Europe, are food products from three continents, Latin America, Asia, and Africa. However, it's interesting to see how many people like to use Ghanaian products.
On Saturdays, African shops in the surroundings of Antwerp are filled with both Africans and Europeans buying Ghanaian products, such as plantain, sweet potatoes, cornmeal powder, palm oil, and many others.
On one occasion, I asked a white man buying a Ghanaian canned palm oil cream, the reason he chose that particular product among other products.
He told me he is married to a Ghanaian and he loves the taste of the food when his wife uses that one since they have tried similar products from other African countries but weren't happy.
If Europeans are interested in Ghanaian products and Africans from other countries, such as Liberia, Sierra Leone, Gambia, Nigeria, etc, do also like Ghanaian products, this is an assurance that Ghanaian products are good.
This must encourage the Ghanaian government to promote the usage of Ghanaian products at home and abroad.
Imagine, there is Fanta and Coco-cola in Europe but do Ghanaians know that some Africans in Europe buy bottled Fanta from Ghana? Why? If you ask them, they will tell you about its quality taste.
Why would the Ghanaian government order food from abroad into the country when their products sell fast in African shops in foreign countries?
The idea that African or Ghanaian products are bad has affected the psychological state of many people. There is something special in Africa we don't value but others value them. That's the reason foreign governments want to take what we from us.
In one of my articles on ModernGhana news, I couldn't hide my love for my beloved Ghana. I miss Ghana every time if I remember the way I enjoy fresh coconut water in the country when on holidays.
Any time I buy canned coconut water from a shop in Europe, I never like the taste, so I have stopped buying them.
Promoting Ghanaian products will lead to the demand for that product in Ghana and abroad, which means, the Ghanaian government could save more foreign exchange for other purposes.