Construction Of Canopy Walk At Kintampo Waterfalls Underway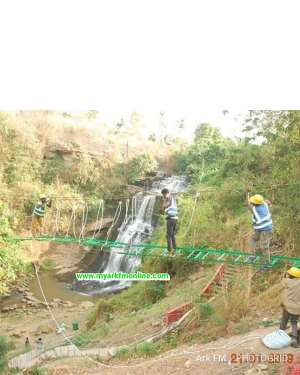 Construction of a Canopy Walk at Kintampo Waterfalls in the Brong-Ahafo Region is steadily on-going.
This is in line with the Nana Addo Dankwa Akufo-Addo led administration's promise to revamp the tourism industry to make it a major revenue earner for the country.
Nana Addo Dankwa Akufo-Addo, said his government is determined to make the necessary investment and build the needed infrastructure to make Ghana the best tourism destination in Africa.
The Canopy Walk will take visitors high above the forest ground to walk among the trees and will also help them to get to the top of the water falls.
The Canopy walk will make visitors also see the forest from 30 feet in the air,providing a different way of looking at it.
The Kintampo Waterfalls was closed down following a disaster which resulted in the deaths of 18 students from the Wenchi Methodist Senior High School and the University of Energy and Natural Resources (UENR) who were patronizing the facility on March 19, 2017.
However, Vice President, Alhaji Dr. Mahamudu Bawumia on Nov. 19, 2017, inaugurated and re-opened the refurbished Kintampo Waterfalls.
New features of the Waterfalls
The refurbished Kintampo Waterfalls comes with an entrance fence wall and a security gate, three number souvenir/provision/ artifacts shops,a toll booth and a spacious car park.
The main arena of the facility has a cafeteria, museum, offices, washroom as well as an overhead merchandised borehole water system, pavilions and summer huts to provide places for outdoor events by patrons.
Kintampo waterfalls is one of the highest waterfalls in Ghana.
This waterfall, one of the main natural attractions in the area, is hidden in the forest and it is formed by 3 main drops with the longest drop measuring 25 metres (82 ft) in height, and, after a number of steps and cascades, the river falls about 70 metres (230 ft).