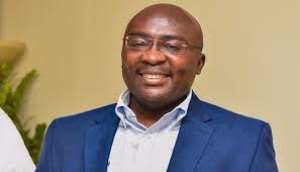 Vice President Bawumia
Dear Alhaji Dr. Mahamumudu Bawumia,
Greetings from Binduri. Long time no see no hear. For sometime now you've been so silent, I was even considering how to locate you with your GPS you used in leap frogging the US, UK, Germany, because they're stacked with old technology according to your own words until Be'iensua, the great god of Binduri tapped me out of benevolence to use the Upper Drone which was passingby while we were enjoying some fresh pito from Zangoum Daag, and truly to the words of the gods, I located you performing the naming ceremony of the new arrival from Samira.
That reminds me, I understand you are leading Ghana on a mission to procure drones to assist Ghana Health Service in distributing emergency medical assortments, right? Great initiative but a misplaced priority! A little of extensive consultation would have saved you and your super corrupt, inept, and incompetent government from wastage of taxpayers money and embarrassment, but hey, you seem to know too much to seek expert advise.
Dr. Leapfrog, you would agree with me that the drones will only transport blood and essential medical assortments to these rural areas right? The intriguing question is does these rural facilities have the requsite trained professionals to apply these essential assortments? Blood as you know, as well as these drugs you seek to transport needs a certain temperature to maintain its validity, how many of these rural facilities possess this ability?
Do our rural facilities have advanced equipment at all? Or at least, do they have trained personnel?
Most of our rural facilities have no beds, they don't handle complex cases too, so Oga Drones, how can they do your magic for you? Will the drones supply blood to patients lying on hospital floors? Well everything is possible in this regime.
You think the staff in these rural facilities can administer blood transfusion? The drone will take blood to every remote areas, but do you have doctors/experts there? Or the half baked nurses in such remote areas should handle that? Wouldn't that be tantamount to committing suicide? Indeed, one of the major challenges of this government is lack of common sense and wisdom, only book knowledge, no common sense!
Again, the cost of procuring these drones is $12 million, one of our greatest challenges confronting the emergency sector of Ghana Health Service is the inadequacy of ambulances, Ghana currently has 55 ambulances operating nationwide, you want to spend $12Million on drones, so how many ambulances are you going to buy? And how many ambulances which is a necessity can't $12Million purchase?
When a country's "priority" of priorities is drones over ambulances, then that country has a very long way to go!
Dr. Bawumia, a drone and an ambulance, which one is most likely to solve Ghanas health problems? Use the drone in the skull!
One of Ghana's top most priority at this juncture if we should consider these drones is the need to fly brains to the Jubilee House, which is currently the number one tramodol abusing house, that house from the head to the least government department now reeks on a daily basis of wanton graft and sleaze which is a contagious disease.
But wait ooo, Abochie, you were at the center stage of the $2.5 million fake GPS-cum -Digital Address scandal, now you've metamaphorsed to drones, have you now abandoned the economy, GDP to IT? Is it because there is so much money in IT than GDP? The dollar is in a comfortable lead, fuel prices, transport fares unbearable, cost of living worse, our Banks are collapsing and you are at Ghana Health Service fighting over drones? Are you serious? Or has the battle transmogrified into money for ambitions? Interesting man!
I thought you are a serious man but now I know that you are simply an opportunistic and unconscious political dinosaur who sees public office as an economically lucrative sinecure! Yes, na me talk am!
Our nurses are sitting home, we have trained medical doctors also sitting home unemployed, should drones be a priority?
Some of our rural dwellers have no access to portable drinking water, not even a dam, they drink from the same streams with their livestock, some don't have access to electricity, my village, Nayoko, is still not on the national grid, my people there don't have access to chilled water, televisions, fans, air conditions, name anything that makes life comfortable, we don't have it, should a drone with a questionable cost be a priority still?
Our roads are bad, motorists are dying daily due to the deplorable nature of our roads, the Bolga-Bawku, Eastern corridor roads and many others are death traps, should drones still be a priority?
The economy is bad, cost of living is high, our graduates are unemployed, this has turned our youth to gamblers, always at game centers, our streets are now dangerous 🔴, with so many children on the streets, streetism is now the order of the day, should we still prioritize drones?
Under President Mahama, it would have been incompetence, so what do we make of this?
Mr. Lying drone, I know you are a talented liar, but things have fallen apart in the NPP government, you may have to consider recruiting extra 5,000 professional liars both local and foreign to help you retain power in elections 2020, but hey, am afraid _ninyinaa 3nko si aga._
John Mahama is coming and its all about bobolebobo!
Until your drones begin hanging on electric pylons, I am gone to look sensible ambulances.
Bye,
The Binduri Boy.