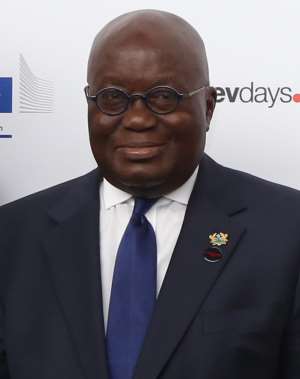 This long essay is in two parts. The first part (titled "Ghana's Economic Imperative and Why Akuffo-Addo's Government must have a comprehensive Asia Policy") discuses Ghana's current economic situation and the need for government to have a comprehensive Asia Policy to tap into the economic might of the rich region of Asia. The second part looks at Asia's rise as economic power and its lessons for Ghana and Africa
The Rise of Asia and Why Akuffo-Addo must Focus on that region
In the last few decades, the centre of gravity of global economic power has shifted dramatically from the West (Europe and North America) to the East (Asia). Asia accounts for six of the G-20 nations of the world's major industrialised economies (China, Japan, India, Indonesia, Saudi Arabia and South Korea). The number rises to 8 if Russia and Turkey are treated as Asian countries. Four of the world's 11 biggest economies are in Asia: China, Japan, India, and South Korea. Figures from the International Monetary Fund show that in 2017 these four countries had a combined Gross Domestic Product (GDP) of US$21.036 trillion which is nearly twice the combined GDP of Europe's four biggest economies: Britain, France, Germany and Italy, which together had a combined GDP of US$10.830 trillion in 2017.
In addition to the G-20 countries, Taiwan, Hong Kong, Malaysia, Singapore, and other ASEAN countries are among some of the well performing economies in the world. Again, the countries in West Asia (Middle East) particularly Saudi Arabia, Qatar, United Arab Emirates, and Kuwait and other oil sheikhdoms are among some of the deep pocket countries in the world.
The Asian region remains the world's workshop with most of the goods consumed in the world being manufactured there. Across the world, Asia's automobile, technology, electronics and telecommunication companies including Toyota, Sony, Samsung, Toshiba, Huawei, Tencent, Alibaba, and Weibo now compete with the world's best and in some cases dominate key sectors of the global economy. For example three of the top four smartphone companies by market share are in Asia. They include Samsung- South Korea, Huawei-China, Apple-US, and Xiaomi-China in order of importance. Today, three of the top four busiest airports by passenger numbers in the world are in Asia. They are Hartsfield-Jackson Atlanta International Airport (USA), Beijing Capital International Airport (China), Dubai International Airport (Dubai) and Tokyo Haneda Airport (Japan) in order of significance. Hong Kong and Singapore also rival London, New York, Frankfurt and Paris as the financial capital of the world.
In the aftermath of the global financial crisis for example, it was Asia and other global south countries that saved the world's economy from total collapse. In fact, many poor performing banking, automobile, robotics and steel companies in Europe were saved by investors from Asia. Barclays Bank UK for example would have either collapsed or would have been bailed out by the UK government had it not been Qatar cash. Jaguar Land Rover, the largest car manufacturer in UK and one of the best known global automobile brands was bought by Tata Motors of India in 2008. In 2012, Chinese investors also acquired Saab, a Sweden-based auto maker. BAIC another Chinese automobile company has invested $1.9 billion in Daimler AG, the maker of Mercedes-Benz. Indeed, since the financial crisis of 2008, German and other European companies have had to rely on Asian funds to remain competitive. In 2015 for instance, about 39 German companies were purchased by Chinese investors. In 2017, another 37 German companies were bought by investors from China. One of them was Kuka, a leading robot manufacturer in the world. Kuka was acquired by Midea Group Co. of China at a price of $5 billion. In 2014, Lenovo China-based computer and smartphone maker bought Motorola from Google. In 2017 alone, Chinese companies invested more than $80 billion in Europe and $29 billion in the United States and the US figure would have gone up tremendously had Donald Trump not imposed some restrictions.
Foxconn, a Taiwan-based electronic assembler, recently announced it will invest $10 billion in the US state of Wisconsin making it one of the biggest foreign direct investment in the US. China is providing the funds for the Hinckley nuclear power project a key energy project that aims at strengthening UK's energy security.
Furthermore, Asia is a huge market for every kind of goods and services produced in the world. The reason is that about 4.4 billion or 60.11 percent of the world's 7.5 billion people live in Asia making the continent a significant source of market for all kinds of goods and services. High economic growth and high income growth in the Asia region have seen millions of people joining the middle class every year. This ever expanding middle class is turning Asia into a sea of buyers.
Some few decades ago, only Japanese and few Asia elite had the financial power to acquire some of the goods that are associated with modernity: well-built houses, cars, colour television, fridges, computers, telephone, flush-toilet, tap water, washing-machine, boilers, microwave, cookers, and other types of electronics and household appliances. Today hundreds of millions of Asians have joined their Japanese neighbours. This can best be illustrated by the explosion of demand for vehicles in the region. Currently three of the top four biggest car markets in the world are in Asia. China is currently the world's biggest car market. The U.S. is second. In 2008, for example only 6.76 million passenger cars were sold in China. In 2017 however, over 24.7 million passenger cars were sold. China overtook the United States as the world's biggest car market in 2009. Japan is the third largest car market in the world with about 5.5 million cars sold in 2017. In 2017, Indians also bought more than four million vehicles thereby displacing Germany to become the fourth largest car market in the World. Asia is also the world's largest consumer of energy and other metals and a fertile ground for agricultural produce. With their huge population and rising incomes, demand for everything known to man is likely to rise.
The Asian region has more billionaires than any other continent in the world. These billionaires are providing endless stream of capital investment in several countries around the world. In 2018, Li Shufu, a Chinese billionaire and founder of Geely one of China's biggest car manufacturers, paid $9 billion to acquire about 10% stake in the Stuttgart-based Daimler AG, one of Germany's most respected companies. The deal made him the biggest investor in Daimler. The Sweden-based Volvo company, one of the iconic automobile manufacturers in Europe and formerly owned by Ford, was also bought by Geely for $11 billion in 2010. The same Geely company now owns London's black cab manufacturer London Taxi Company and also controls 51 percent share of Lotus, the iconic British sports carmaker. Asian billionaires have sunk hundreds of millions of dollars into European football. Indeed, some of Europe's biggest football clubs including Inter Milan and AC Milan of Italy, Lesicerter and Manchester City in U.K. are owned by Asians.
Additionally, Japan and China have the world's largest financial reserves in the world which is a major source of investment in the world. Currently Japan has invested nearly $1 trillion in US government stocks, corporate bonds and agency holdings. China too has used part of its reserves to buy $1.18 trillion U. S. government treasury bonds. And under the One Belt, One Road initiative, China is investing $1 trillion of its reserves to build all kinds of infrastructure (including roads, railways, ports, harbours, energy) in Africa, Asia, and Europe as a way of deepening, growing and expanding the global economy.
In East Africa for example, China's capital is already building roads, railways, harbours and other infrastructure. Indeed, China provided the funds that built the Addis Ababa-Djibouti railway line as well as the Nairobi-Mombasa rail network at a combined cost of about $8 billion. To put things in perspective, in late July this year, during the 10th BRICS Summit in South Africa, India's Prime Minister Narendra Modi stopped in Rwanda and promised to invest $100 million in that country alone. China's Xi Jinping on his way to South Africa for the same summit also stopped in Rwanda and offered to invest $126 million in the country. Early in September 2018, African and Chinese leaders gathered in Beijing as part of the Forum on China-Africa Cooperation (FOCAC). At the end of the meeting, China agreed to invest $60 billion in Africa in the next three years. Meanwhile, early this year when then US Secretary of State Rex Tillerson visited Africa, he promised $533 million for the countries in the region. Again in the first week of August this year when the US Secretary of State Mike Pompeo visited the ASEAN countries in Asia he could only promise to invest $113 million in the 10 countries that make up ASEAN. German Chancellor Merkel and British Prime Minister May promised to invest in Africa when they visited August this year but their offer was no where near that of China.
Indeed, the economic strength of Asia has been recognised by all non-Asian economies including those in Europe and North America. Across Europe, governments are rolling out red carpet for Chinese and other Asian leaders in a charm offensive to win investors from the region. In July 2017 for example, Walter-Frank Steinmeier the President of Germany, Europe's most powerful economy, greeted Xi Jinping at the Berlin Airport with full military honours. Britain also welcomed Chinese President Xi Jinping with pomp in 2015.
During their time in office, Chancellor George Osborne and Prime Minister David Cameron frequently visited Beijing to lobby for China's cash. Philip Hammond and Theresa May who respectively replaced George Osborne and David Cameron as Chancellor and Prime Minister continue to deepen the UK's relationship with China, India and Japan. Since voting to leave the EU, UK Prime Minister Theresa May and her aides have intensified effort to bring U.K. closer to Asia because of the belief that Asia holds the key to UK's bid to become economic superpower. Toyota of Japan responded to the UK's gesture and agreed to invest $310 million in its UK plant. Currently the U.K. is lobbying very hard to get Saudi Arabia to list Saudi Aramco, the world's most valuable company, on the London Stock Exchange. The United States is also working aggressively to attract Saudi Aramco to list on the New York Stock Exchange. Saudi Aramco, an oil firm owned by Saudi Arabia, is worth more than $2 trillion and is more valuable than the US-based Apple, the world's most valuable technology company.
Due to their growing wealth, power and influence, European countries like Germany and Britain have established strong bilateral economic relations with Asia's powerful economies. The UK and China for instance have established strategic dialogue in which leaders from both countries meet annually to discuss strategic issues of common interest: trade, investment, finance and access to each others market among others.
Perhaps what is making Asia unique is the amount of money they have been investing in education and research particularly in Science, technology, engineering and mathematics. As a result of the investment, some of the world's best universities and research institutions can now be found in Asia. While the United States tops the global list when it comes to publishing in the world's top scientific journals, it is followed by China with Japan occupying the fifth position. Singapore and South Korea are ranked as two of the world's best countries in terms of delivery of primary, secondary and postsecondary education. In other words, it is not only the centre of gravity of economic power that is shifting but also knowledge and information production.
The global power shift to Asia is nothing new. According to the Singaporean scholar Kishore Mahbubani, for more than 18 centuries (1 to 1820 A. D.), China and India were the two biggest world economies. In the first century AD for example, Asia controlled 76.3 percent of the global economy while Western Europe had 10.8 percent. It was the unset of the Industrial Revolution that shifted the global balance of power to Europe and America. Indeed, the Industrial Revolution has seen the West dominate the global economy for two hundred years.
However, in the last fifty years, Western dominance of the global economic system is beginning to wane. By 2050, three of the top four economies in the world will be in Asia: China, Japan and India with the United States the only Western country among the top four. This is something Ghana cannot ignore and the reason why Ghana must have a comprehensive Asia Policy that seeks to bring Ghana's economy closer to the region. For a better understanding of Ghana's current economic status, see part one of this article titled "Ghana's Economic Imperative and Why Akuffo-Addo's Government must have a comprehensive Asia Policy".