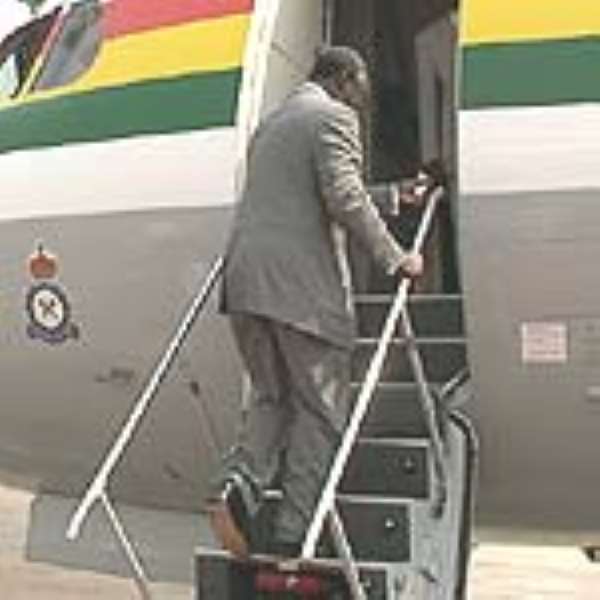 Accra, Sept. 30. GNA - President John Agyekum Kufuor left Accra on Friday for Abuja, Nigeria, to attend an emergency meeting of West African Heads of State on the Ivorien crisis.
Nana Addo Dankwa Akufo-Addo, Foreign Minister, and some officials of the Ministry of Foreign Affairs accompanied President Kufuor. The Abuja meeting is expected to find a political solution to the protracted Ivorien conflict that has effectively split the country into two with the former rebels, the New Forces, controlling the northern half.
Leaders of the Economic Community of West African States (ECOWAS) have shuttled between several capitals in the past three years in efforts to end the conflict.
The meeting would also discuss the mandate of Ivorien President Laurent Gbagbo that expires at the end of October. President Kufuor would return to Accra and leave for London en-route to Paris, France, later in the day to participate in a special UN Educational, Scientific and Cultural Organisation (UNESCO) forum as Guest of Honour.
According to the Presidential Spokesman, Mr Kwabena Agyepong, who is also on the trip, President Kufuor would hold discussions with French President Jacques Chirac and attend a trade show in Paris. The Minister of Education and Sports, Mr Yaw Osafo-Maafo is expected to join the President in Paris. At the airport to see off President Kufuor were the Vice President, Alhaji Aliu Mahama, some Ministers of State, the Dean of the Diplomatic Corps, Mr Ibrahim Omar of the State of Palestine and the Chief of Defence Staff Lieutenant-General Joseph Boateng Danquah.