WASSCE to replace SSSCE in 2006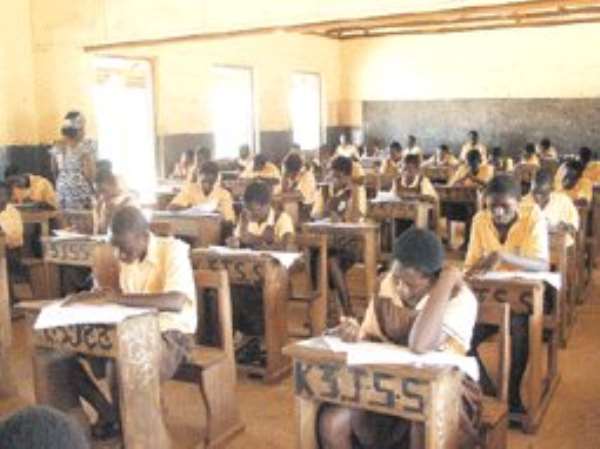 Accra, Sept. 27, GNA - Ghanaian school candidates would as from May/June 2006 be writing the international West African Senior School Certificate Examination (WASSCE).
WASSCE would replace the current Senior Secondary School Certificate Examination (SSSCE), the Head of the National Office of the West African Examinations Council (WAEC), Mrs Patience Ayesu announced at a press briefing in Accra on Tuesday.
The press briefing was to launch the WASSCE programme in Ghana and the occasion was also used to announce the country's preparations towards the examinations, which are being currently being run in the Gambia, Nigeria and Sierra Leone. Liberia is planning to adopt the WASSCE in 2008.
Mrs Ayesu said the programmes available for WASSCE were the same as those for the SSSCE and each candidate would still be expected to take the four core subjects in addition to three or four elective subjects. She said the timetable for the May/June 2006 examination was ready and copies would be forwarded to schools that would participate in the exams.
"The rules which govern the conduct of the SSSCE will apply to the WASSCE. Sanctions for flouting any of the rules remain the same. "The WASSCE, like the SSSCE, is made up of two components for school candidates; that is, 30 per cent continuous assessment and 70 per cent external."
She said while the grading of SSSCE was a six-letter grading, that for WASSCE was alphanumeric, with a nine-point format.
"The interpretation of the various grades is as follows: A1-Excellent, B2-very good, B3-good, C4-credit, C5-credit, C6-credit, D7-pass, E8-pass and F9-fail," she explained.
She said the WASSCE would be available to private candidates in Ghana from 2007 and the examinations would be conducted in September/October.
The GCE Ordinary and Advanced levels were phased out after the 1994 and 1996 examinations, respectively. Each member country of WAEC then adopted its own national examinations and Ghana introduced the SSSCE programme.