Gov't Urged To Upgrade Tinga Health Centre To Polyclinic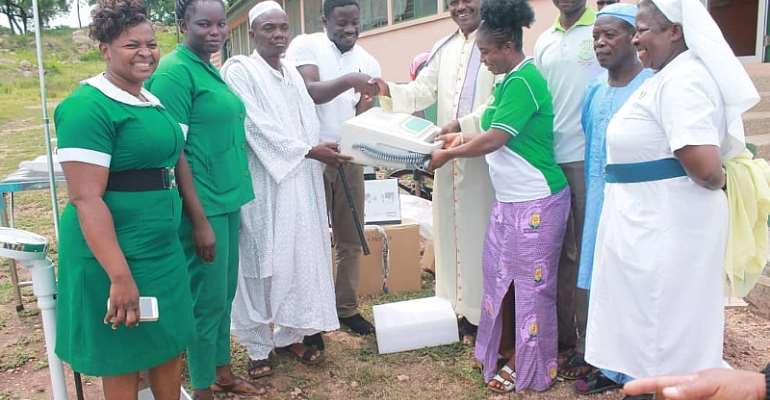 The chiefs and opinion leaders of Tinga in Bole District of the Northern Region of Ghana have called on government to consider upgrading Tinga Health Centre to the status of a Polyclinic.
They launched this appeal on receiving hospital equipment worth hundreds of Ghana cedis from the Franciscan Missionary of Mary(FMM),a Catholic religious body.
The items received include:Four examination beds,10 beds with mattresses,20 bed sheets,two trolleys,six screens,three wheel chairs,two Delivery beds,two Oxygen cylinders,two patient stretch,three Delivery set,four Accoson BP monitors,four stethoscopes,one infrared thermometer,10 digital thermometers,two Weighing scale hanging,three Heavy duty scales,eight Bed pans,eight Vagina speculum metals,two Sonicade digitals,two Sterilizers,six Drip stands ,four Urinals,10 Dressing sets,two Glucometers,three Armpit crutches,one Zimmer Frame,one Weighing scale (bowl),one Otoscope,two Fridges,three crutches,two Motor bikes,15 Patient benches,four Nurses tables,eight Chairs,two Resuscitation machine,10 Blankets,three Computers,10 Mackintosh,10 Pillows and one polytank.
The huge support received according to the chiefs and opinion leaders set enough fertile grounds for the facility to be upgraded to a polyclinic.
Whilst thanking the donors for the support,they disclosed that it was the first time the facility was receiving such a massive support since its establishment.
In handing over the items,Msgr.Augstine Towoni,the Vical General of the Damongo Diocese who represented the Bishop,Most Rev. Peter Paul Angkyier, stated that,the catholic church is human development centered and does not rely on catholic population in an area before providing basic social amenities for the common good of the people.
He disclosed that,since the creation of the Damongo Catholic Diocese in 1995, the church had built clinics in the diocese,which is covered by five political administrations namely: West, Central,and North Gonja Districts,Bole and Sawla-Tuna- Kalba Districts.
He reiterated that,aside the Damongo catholic hospital,plans are far ahead to upgrade the St. Joseph clinic in Kalba,a hinterland of Sawla-Tuna-Kalba District to the status of a hospital.This he said will bring proper healthcare service delivery to the people of that part of the country and will also serve neighboring Burkina Faso and the Ivory Coast,which share boundaries with Kalba and are currently seeking healthcare services at the St. Joseph clinic.
He underscored that,the church's effort in providing basic social amenities in the area that they operate is to complement government's effort and not to compete with government.
The facility In-charge,Mr. Okpaa Cephas Kwasi,stated that,since the establishment of the facility in 1976,it has been facing a lot of operational challenges ranging from human resource to equipment.
He said,"this donation does not only bring relieve to the workers but also patients,most especially,pregnant women who in most cases we are compelled to refer to Bole because of lack of proper maternity facilities.This poses a life risk to the unborn and the mother.Now,with a well-furnished maternity ward with modern health facilities at the center, pregnant women can now heeve a sigh of relieve and we assure them of our professionalism in safe delivery and also the development at the facility is a moral boaster for we the eight professional nurses and other workers."
Mr.Cephas disclosed that,the facility currently serves over 200 settler communities,mostly from hinterlands who are farmers and small scale mining operators and records OPD attendance of over 30 a day before the project.
According to him, Tinga Township is along the Wa –Kumasi trunk road and is considered an accident-prone area. He stated that many accident victims' lives could have been safed if the facility had received these equipment earlier.
He thanked the donors:Missionszentrale der Franziskaner e.v in Germany for their effort in helping to improve healthcare delivering by providing this equipment and also added his voice to the opinion leaders call on government to upgrade the facility to a polyclinic.
Rev. Fr. Martin Muosaayir,the Parish Priest of Christ the King parish at Tinga, stated that,it is regrettable that these days',people are turned away from even bigger hospitals in the cities as a result of no bed for admission,adding that this shows how limited our health facilities are in health care delivery.
The community according to him,therefore,received the equipment with great relieve and joy and urged the staff to put the equipment into good use.
Rev. Sr.Sebatiana Bekyane,the brain behind the project and donation said that,as a staff of the health center,she realized that clinic attendance was high but with very limited equipment making their operation very challenging.Rev.Sebatiana who had work at different hospitals said a colleague from Germany visited them at Tinga and decided to visit her work place and on seeing the poor state of the health center,encouraged her to put a proposal for support.
Together with her congregation,a proposal was put together and sent to Germany and it was approved,she said.
She disclosed that,her joy was seeing the staff work under good condition and attending to patience in conducive environment and that,she is very grateful to the bishop for giving them(FMM) the opportunity operate in his diocese.