Afuaman M.A Basic School Benefits From ALDI Education Project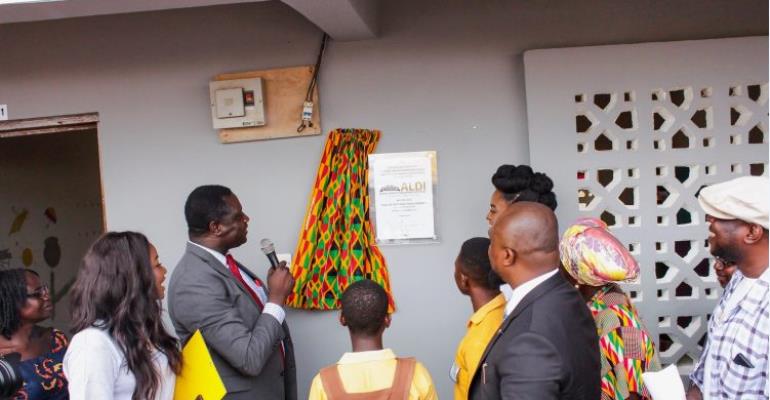 A Victoria Michaels foundation project, African Literacy Development Initiative (ALDI), has handed over a refurbished kindergarten school block including a resourced library to the town and pupils of Afuaman M.A Basic School in the Afuaman-Manhea community of the Ga West Municipality.
In addition, the foundation also presented to the school Toys, school bags, learning materials among others.
Speaking at the handing-over ceremony the Founder and the Executive Director of ALDI, Victoria Michaels described the occasion as historic.
"When our project Director brought us to this school for the first time a few months ago, the situation appeared very hopeless, the state of the facilities we are about to unveil was in deplorable state, to say the least," she said
"the task seemed very daunting but today hope has conquered despair, light has risen over gloom and possibilities has overcome difficulties it's a great day because Afua will no longer come to a kindergarten class devoid of learning materials," she said
She further explained that since the inception of ALDI three years ago, the prime aim is to constantly focus on how to support government's efforts to improve literacy especially in the rural communities across the country.
In throwing a little light on the vision of ALDI, Ms. Michaels who also doubles as international model stated that the ALDI project is an interventional launch pad for the Victoria Michaels foundation to reduce illiteracy.
"Our vision as an organization is to transform lives through proactive literacy development ideas such as what we have here today. We believe that educational development must be at the heart of societal governance and skills acquisitions are key to national empowerment," she said
The Deputy Minister of Education, Dr. Yaw Osei Adutwum, in his speech, made a passionate appeal to the pupils of Afuaman to take their studies seriously saying "education is a change agent."
He said the gesture done the community by Ms. Michaels and her foundation will forever transform the community literacy wise.
"Education makes dreams come true and sometimes it is a dream that you have never had but it happens and you say to yourself how did I get here. For what you are doing Ms. Michaels you are paving the way for children to be able to get to a place in their lives where they will ask themselves how did I get here?" he said.
Elated by ALDI's gesture the headmaster of the school thanked Ms. Michaels for her foresight and love for literacy.