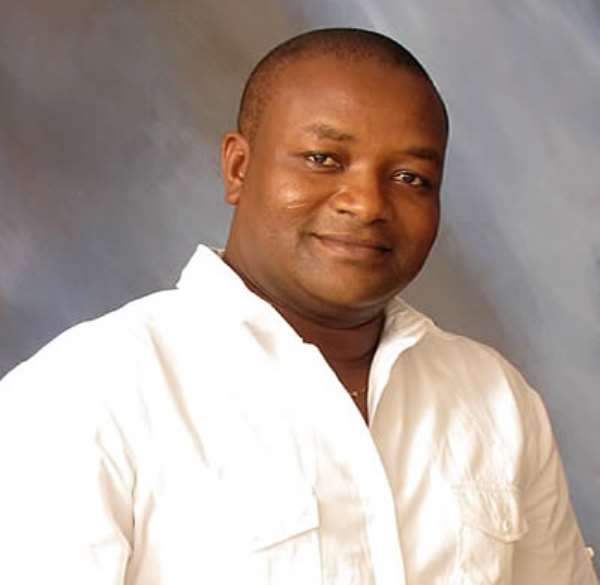 Dear Dr. Hassan Ayariga,
Darling boy of the Kasaug Kingdom,
Greetings from Binduri.
Oga, how far now? Long time, laafi b3 fon3 fu zaama Koo? Ti puus' winaam barika. I understand you are are 100% sure Akufo Addo will lose election 2020 and that Nana Addo have failed Ghanaians, right? Well, you're actually a true son of the Kasaug kingdom, bold and very honest. Well I couldn't agree with you more. You nailed it right and I will tell you why.
INSECURITY
First of all, I will like to tell you that you're a prophet, and this time again, you're prophesying. Today is decision making. The young ones out there, we're ready and when I say we're ready, am talking about we are ready to rule. I'm not here to say all die be die, neither am I here to say 'yen akanf)' nor am I here to say kill Ga's or Ewe's". These were your words in a debate organised by the IEA, where you heavily criticised Nana Addo for his violent nature. So many Nana Addo 'hangers onn' and basket of deplorables took you to the cleaners. Your words have come to pass. Come for your stone.
Today, criminals are protected by Nolle Prosequi, miscreants are encouraged, criminality has been entrenched by subtle executive order. Our courts are threatened and the masses are DOOMED. Nana Addo Dankwa Akufo-Addo is the President. A senior police officer by name ASP Nanka Bruce was assaulted by members of the Invincible forces- our new king's trusted security forces at the Flagstaff House, the seat of government and till date, despite the numerous security cameras at the Presidency, we're yet to know the culprits. We're now in an era of a government of the vigilantes, by the vigilantes and for the vigilantes. Nana Addo looks like a monkey but whereas the monkey attracts tourist, Nana Addo only attracts criminals and goons. The goons have recorded significant and landmark achievements more than the Nana Addo led NPP government.
Citizens are panicking and now always living in fear wondering where and who the next victim of these criminals would be. I have recorded 24 separate attacks by these criminals since Nana Addo became president. They're now so powerful to the extent of freeing their colleagues each time they're on police remand. The police are rather always on the run for their lives. Of course niie'ng puu ee't ku biig fee'n naa.( the bird does not fly whilst it's baby crawls) they've learnt from their master.
CORRUPTION
They won the elections with an anti-corruption campaign. Today what are we seeing? Daylight robbery. Corruption have assumed unproportionate heights. It has even engulfed our Ghana Police Service. I'm saying the Ghana Police Service is very corrupt. What the Ghana Police now does is helping the government to cover up corruption. We're now having a United Government of Corruption and Cover-ups (UGCC). But who dare you criticise? I mean who born dog? They would come after you. The media has now moved from their roles of watchdogs to guard dogs. Our moral society has now become passive spectators. Everyday is contaminated and share.
Ken Ofori Atta, issued a scandalous $2.25Billion dubious bond within 4 hours. A bond whose issue was shrouded in secrecy, issued without recourse to laid down procedures and industry best practices requirements, issued without a Cabinet approval, issued without Parliamentary approval, issued without a Securities and Exchange Commission board, the Attorney General who is the principal state attorney was not aware of the legal implications of the deal. Till date, we are yet to investigate the deal. Alfred Obeng Boateng of the BUSTED BOSTING BOST BOSS fame sold 5 million litres of contaminated fuel to his own unregistered company which was unlicensed and unregistered. He is still at post. One now has to pay $20,000 to access the Presidency and this includes foreign investors.
The communications ministry spent GHȻ15Million on a free Google app. Instead of bowing in shame, we have the talking cricket, Alhaji GPS leapfrogging beyond US and Germany, taking critics of this app to the cleaners. Let me clear this from my chest; the 2016 budget allocation to the following ministries,
1. Ministry of Youth and Sports, GHc46million
2. Ministry of Employment and Labour Relations, GHc60million
3. Fisheries and Aquaculture, GHc62million
4. Works and Housing, GHc108milliom
5. Aviation, GHc59milliom
6. Chieftaincy and Religious Affairs, GHc34million.
And you would like to hear this; Nana Addo and his apparatchiks have blown GHc177million on tea, hotels, air tickets, allowances etc on a failed energy bond issuance. Something I call energy bomb. Ghana is bleeding. Only the pigs are now enjoying.
BROKEN PROMISES
Oga, the NPP promised a lot when they were in opposition as you rightly stated in your press conference. They promised to restore DKM and other Microfinance institutions who swindled them of their investments and the reality check is that nothing is happening. They promised the Ghanaian Youth and Graduates jobs and the reality is that over 30,000 workers have been laid off ever since they assumed power. The reasons are mind-boggling. Political reasons.
They promised to reduce electricity tariffs and the reality check is that, Ghanaians are yet to see a pesewa reduction of their electricity bills. They promised to reduce the cost of fuel prices and reality is that prices of petroleum products are touching the heavens and what they're doing is paying journalists bribes to discuss a cooked KB REPORT on the causes of the NDC's defeat. They promised Ghanaians that they won't borrow because the money is there and the reality is that, the NPP government is borrowing to pay even salaries. They promised us 1-village, 1-dam and the reality is that we're yet to see a single dam constructed.
They promised Ghanaians 1-district 1-factory and that 50 would be ready this year but the reality is that not even a single factory is under construction. They promised Ghanaians 1-constituency 1-million dollars and the reality is that no single constituency has received a pesewa after their common fund has been reduced. The constituents are asking, Jack Where Are you? They promised Ghanaians free education and the reality is that only SHS 1 students are enjoying a bogus form of it. Second and third years have had their fees unreasonably increased, robbing Peter to pay Paul is what am talking about. Students are sleeping under trees and sitting on blocks to study. Many others were denied admission. I can go on and on!
YOU ARE THE MOST SERIOUS POLITICAL PARTY FOUNDER IN GHANA CURRENTLY
Oga, I must confess to you that you're the most serious political party founder in Ghana currently. You're more serious than the PPP founder, that many actually are very good in complaining and whining more than organizing his party. You're more serious than the founder of the NDC, that Oldman is more interested in preventing John Dramani Mahama from leading the NDC again than organising the NDC. Infact he is the one who needs to be organized himself. Always roaming with Nana Addo and singing praises on him. He is the only one in Ghana who is yet to see any wrong in the current regime. Funny enough, any least opportunity he gets, if he is not flogging the dead horse then he would be preaching moral lessons.
Dr. Hassan, as for the moral lessons, we in the NDC are ready to learn but should we learn from the brothel? I mean as for the advise for us to avoid the consumption of excess alcohol, we understand but should that come from the seller of Adonko bitters? Fo ye'ee aa Koo? Are you understanding me? Good. The PNC is technically dead. I thought the old man, Dr. Edward Mahama wanted to be a President. Little did I know that Dude is only interested in his stomach. He is now an errand boy for Nana Addo at his age. Intriguing, isn't it? But that's the reality. Ambassador-At-Large. Consider swallowing the PNC, it would boost the numbers in the APC.
Your decision to dissolve all positions in the APC and conduct fresh elections is the way to go. Your national grassroots organisation across all polling stations nationally is a fantastic move. I see you becoming the 3 largest political party in Ghana in the next elections. I'm proud of you, Kasaug is proud of you, Zug'ran is proud of you, Upper East Region is proud of you, Northern Ghana is proud of you and Ghanaians are proud of you. Keep on keeping on.
YOU ARE THE PHILANTHROPIST OF GHANA TODAY
Oga, well done. More grease to your elbows. May you leave to see your grandchildren. I read on the web and confirmed from you on phone and you're constructing a multi-million dollar hospital facility in Haatso, Accra to cater for the health needs of the Ghanaian people. The facility would be the second largest in the world and the largest in Africa. That decision is out of this world. A decision you took outside the box. Thinking beyond your nose. Perhaps, most of our big stomach men would not have to fly out for medical treatment anymore. They would be treated there. Jobs would be created and our infrastructural strength as a country would increase. I hope Ghanaians make you a President someday. You would be doing better for Ghanaians more than what the family and friends, ex-girlfriends and contaminate and share President is doing to Ghanaians.
Tribalism has been institutionalized in Nana Addo's regime. One now needs to possess a certain name to qualify for a job. Northerners are now called Liars, insincere and ungrateful people. The president can't even speak out. Our politics today instead of effecting us is rather affecting us. Some revelation is at hand. The Second Coming of JM is at hand.
I would like to go to Zanguom Daag for a calabash of pito but before then I would like to leave you with the Irish poets, William Butler Yeats poem he released in 1865, am sure it would inspire you until I visit your office.
The Second Coming
Turning and turning in the widening gyre
The falcon cannot hear the falconer;
Things fall apart; the centre cannot hold;
Mere anarchy is loosed upon the world,
The blood-dimmed tide is loosed, and everywhere
The ceremony of innocence is drowned;
The best lack all conviction, while the worst
Are full of passionate intensity.
Surely some revelation is at hand;
Surely the Second Coming is at hand.
The Second Coming! Hardly are those words out
When a vast image out of Spiritus Mundi
Troubles my sight: somewhere in sands of the desert
A shape with lion body and the head of a man,
A gaze blank and pitiless as the sun,
Is moving its slow thighs, while all about it
Reel shadows of the indignant desert birds.
The darkness drops again; but now I know
That twenty centuries of stony sleep
Were vexed to nightmare by a rocking cradle,
And what rough beast, its hour come round at last,
Slouches towards Bethlehem to be born?
Assibid Dauda,
*The Binduri Youth Activist.*