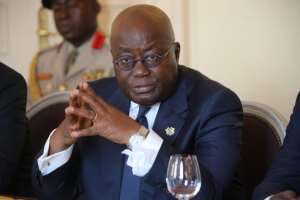 President Nana Akufo- Addo
The emotions and euphoria on that day was not because Dr. Kwame Nkrumah had resurrected, but because a man who had had an uphill battle in the quest to become the president of Ghana had his dream finally materialized.
The Nana Addo led government was a dawn of a new page which one expected would create an utopian state that will leave the opposition in a perpetual ambience of silence. Unfortunately, pockets of the NPP youth who thought their thumbs were bigger than any person in Ghana and for that reason, it was their votes that brought the NPP into power, have deflowered the glory of the Nana Addo led government with unholy political hooliganisms.
The malicious hooliganisms carried out by a section of the NPP youth is not caused by a demon, but rather the failure of the government apparatus to crack the whip against their political interest. I am not old enough to be your history tutor, but I can confidently say that it is the Nana Addo led government that we have had the highest number of ministerial and institutions in charge of security. Among these are the Minister of Defense, Minister of National Security, Minister of Interior, the IGP, National Security Advisor, etc. With all these ministries and security agencies in place, one would be left on the wilderness of wonder why a group of people could take the laws into their hands and go scot free.
Since January this year, there have been reports of about twenty separate hooliganisms by a section of the NPP youth in their quest of claiming ownership of state properties and getting their share of the national cake. The president has condemned it, but as our elders say, "Talking doesn't fill the basket in the farm," he must act now to bring this ungodly acts to an end. Our security and state properties cannot be exchange for the interest of members of any political party. We must be safe under your regime.
The parochial interest of a vigilante group should not deny that schoolchild of food under the school feeding program. Their interest should not prevent any public officer from working. Nevertheless, Mr. President such incidents affirm the need for the creation of jobs for the youth, because an employed busy-doing youth will never engage in any act of hooliganism.
It is of no doubt that the Nana Addo led government is doing quite well, even at its embryonic stage, albeit, the inability to crack the whip of vigilante groups from the NPP is their Achilles' heel. And as distance tests the strength of the horse, so shall time test the integrity of Nana Addo led government. Mr. President, note that the law may not change the heart, but it can restrain the heartless. Fix the holes (vigilante groups) on the castle gate, because they are deflowering your government of its glory.
"We are not children of a lesser god"
Ntenhene Felix
[email protected]